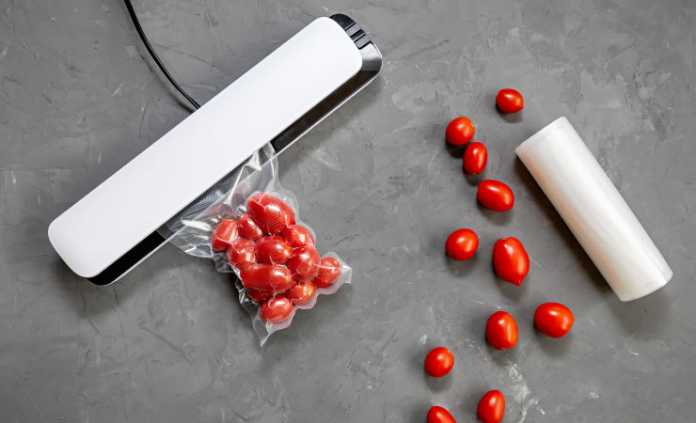 Vacuum packing helps in removing air from packing before sealing. This method will involve placing items in plastic film packages, removing air from within and then sealing it. At some time, shrink film is used for having a tight fit to contents. The intent of this packing is to remove oxygen from the container to extend the shelf life of the food items. With flexible package forms, it helps in reducing the volume of package and contents.
This packaging method helps in reducing atmospheric oxygen and limiting the growth of fungi or any other form of aerobic bacteria. So, it helps in preventing evaporation of the present volatile components.  The industrial vacuum sealer is mainly used for storing dry foods over a long time, like nuts, cereals, and cured meats.
In the shorter-term, this type of vacuum packing is used for storing fresh foods like meats, vegetables, liquids and more, which have higher chances of inhibiting bacterial growth.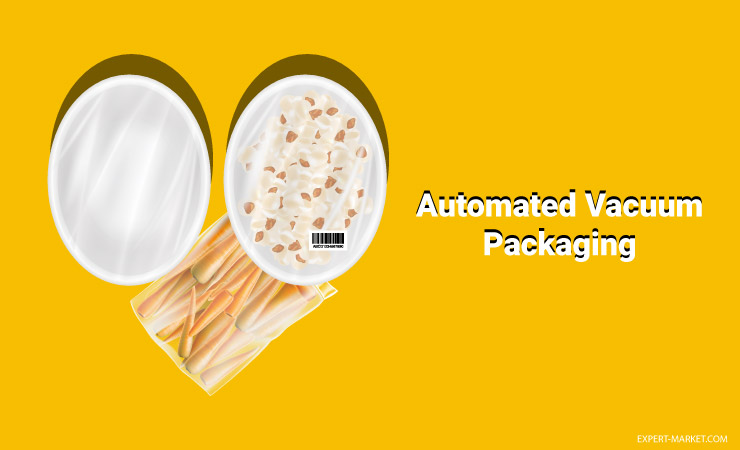 Benefits of using vacuum sealer in the food industry
As mentioned already, a vacuum sealer helps in preventing the growth of bacteria and fungi, keeping the food items healthy for a long time. There are some benefits related to automated vacuum packaging, especially to cover the food industry. It is time to learn about those options.
| | |
| --- | --- |
| Benefits | Descriptions |
| Preserving food for long | Vacuum sealing helps in extending the lifespan of various food items, from meat to cheese and more. Using traditional methods will help preserve meat for 6 months in a freezer. However, a vacuum sealer will help it last for a period of 2 to 3 years in the freezer. |
| Save money | If you get to preserve food for a long time, it means you are saving money with less food spoilage. It helps you to purchase items in bulk at reduced cost and to be stored safely for future use. |
| Protection | The vacuum sealing method adds an extra protective layer on food from external sources. This method will prevent food from becoming dehydrated and avoid the risk of freezer burns. |
| Keeping the taste alive | Sealing food by vacuuming out the air will retain the flavor, moisture, and texture of the food items. Furthermore, this method helps in preserving the nutritional value of the food items too. |
| Safety at its best | As your food remains safely preserved, protected and void of oxygen, it will prevent harmful growth of mold and bacteria. |
New and affordable types of vacuum packaging machines
The market houses some of the affordable and new types of vacuum packaging machines in the USA. Running down the list will help you make the right choice here.
1. Semi-automatic vacuum packaging machine
As understood from the name itself, this machine is semi-automatic in nature and used by the food industry, to cover meat, cheese and more. The machine comes with modified atmosphere packaging and tabletop design. These machines will ensure perfect preservation alongside optimal adjustment and quality pump.
2. Stainless steel vacuum packaging
With a minimum weight of 22kg, the vacuum packaging machines are made using stainless steel as the best material. It has a voltage of 440/50 V/Hz and with a sealing power of 500W or 750W. The vacuum pump power is of 1500W and it has a double chamber, SS Hull.
The double chambers packaging machine can finish the entire program of gas flushing, vacuum extraction, cooling, sealing and exhaust automatically. After the products get packed using this machine, the items within can be protected from mold formation, oxidation, getting damped and more.
The double chamber packaging machines are used for packing up seafood, meat items, electronic components, medicine, medical instruments, and hardware items.
3. Automated vacuum packaging machine with commercial digital tabletop
This desktop sealer is an updated version of the basic vacuum packaging machine. After the machine does its service, the food has its original taste preserved and can be stored much longer. This machine comprises of tightness packaging materials with advanced seal technology. So, it will prevent the food from getting spoiled. This machine will make food storage safer. The items are durable and powerful.
With modern technology booming, new types of automated vacuum packaging machines for various industrial are coming in the market. Each product has its share of features included.