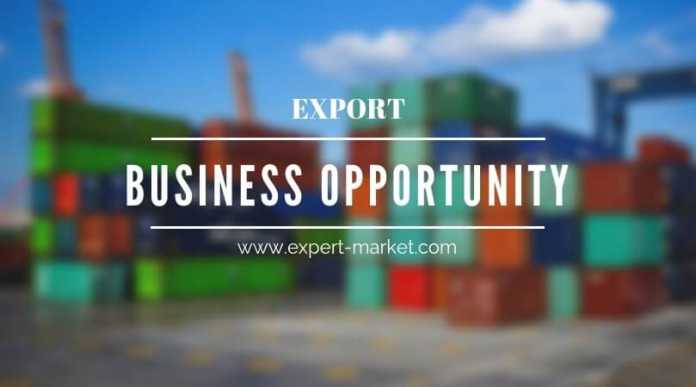 Export business idea is very profitable if you follow effective business plan. Below article will explain about scope of export business in India with profitable product ideas and opportunity in export business in India. We have also covered profits and weekness in this business.
Reasons why you should contemplate on starting your own export business?
Scope & opportunity in export business:-
It is no secret today that the growth and opportunity of international business in India has grown manifold than it was a decade back. Our government is taking several steps to boost the growth of manufacturing sector as well. Different policies have been adopted by the government which will help in domestic as well as international trade from the country. What's more, it will not only encourage young entrepreneurs but will also help in creating job opportunities for those residing in India.
A crucial part of setting up your own export business ideas in India is the thorough understanding of different products that have a prospective international market with good opportunity. As an entrepreneur, you will need to have a clear idea of the market where you intend to sell your products. Instead of trying out all the market on the go, you can aim at different market at a time and try to find out which products are in great demand and whether there can be any growth in the business with the products you are willing to offer. This will eliminate the chances of incurring losses with wrong selection of products or market. You should make a move towards different markets on priority basis to know the pattern of sales and demands in those areas. Not only that, you need to have a clear picture of different export laws that applies to that particular region, state and country so that you don't face any legal difficulties while conducting your business.
Business profits:
Exporting business idea is very profitable if selection of your target market is well planned with understanding of need of particular product in that market. Below we have shared some export business ideas in which you can select a particular product and start exporting from India for profitable income.
Factors to consider for building the export business
Selection of products
Selection of products is very important step in export business. select the products which can be exported easily without too much hassle in packaging and transportation. Agricultural products and machinery equipments could fetch high profit margin when exported from India. Apart from that heavy equipments, petroleum products, diamonds, etc are other some profitable export ideas.
Availability of products & export product vendors/suppliers
Finding reliable supplier in this business is crucial and your business will depend mainly on your supplier. Make sure that your supplier can provide required quantity of products in particular time. Suppliers/vendors can also help in packaging of products which are being exported. You can save the middleman cost if supplier helps in transportation of product to nearest port for export.
Pricing
Next thing which is going to draw your attention is how you will set the prices of different products in the international market. As the price of selling your products is considerably dependent on the cost of production, it would be wise if you can eliminate those middlemen who add meagre value in terms of selling the product but multiply the expenses to a great degree. You would be able to make your final products far better by improving their quality and reducing the transaction expenses.
Setting up your target
Next, you will have to identify your goals and how much revenue you should generate in order to make your business a profitable one. This is the time when you should be scheming the export business plan and identify the items that you are willing to export. Export business is a large scale enterprise and therefore if you feel that you are getting confused, you may seek professional assistance in order to know what's best for you and how you should proceed along the line.
Export Ideas & business plan
Your business plan should have a list of all the necessary activities required for achieving your goals. For this, you will have to contact different suppliers as well as government officials in order to stay updated about the nooks and corners of your business. Since this would invariably demand for a thorough research, you can take ideas from an expert or hire one who can help you all through the way.
Financial hazards and turmoil in business are the integral parts of any business and your export enterprise is no exception. You will have to maintain your calm amidst all the crisis and look for a probable solution to all the disputes that are bothering your business.
Various products that can be exported from India to other countries – Product Ideas
No other economy can beat India in terms of the pace at which it is growing according to a data published in 2015. In the last 5 years, the export business of our country has grown by a whopping 44 percent and we exported products worth 318 billion USD in 2014. Not only that, the total accumulated GDP has crossed 7.9 trillion USD in 2015.
India's gross economic output has increased by 4 percent with the contribution of export business. In 2014, a few commodities surpassed others in terms of their value and obtained foreign currency for our country. Some of them are listed below:
Petroleum and by-products of petroleum:
You may believe that India imports petrol from other regions of the world. While this is true to a great degree, the big companies like Hindusthan Petroleum, Bharat Petroleum, ONGC, RIL and others have secured 61.2 billion USD by exporting their products which has immensely supported our economy.
Precious stones and metals:
Our country has a market for 20 percent of gold produced across the world, out of which a major 75 percent are invested to make jewellery items. This particular sector also enjoys the support of governmental policies, banks and other financial institutions. Therefore, India exports about 30 percent of her jewellery to the United States of America alone which is followed by other nations like Hong Kong, Singapore, UAE and Belgium and has earned 41.2 billion USD in 2014.
Automobile:
While there are various foreign-made cars being imported to our country, the growth of automobile exports sector in India has grown by 17 percent from 2008 to 2013. This economic growth is sure to prove beneficial if you invest in this business as India is one of the largest producer of steel across the world. Our country has gained prominence in exporting automobile in other nations and has procured 14.5 billion USD to boost our economy.
Machineries:
Heavy machines including vehicles, heavy equipment, pumps, construction items, agricultural items and several other items have a good market for export. In 2014, this sector has witnessed a 10.5 percent growth and has fetched foreign revenue worth 13.6 billion USD.
Bio-chemicals:
Governmental policies as well as research facilities all across the country have boosted the growth of this industry and it contributes in the growth of our economy to a great extent. However, bio-chemical products made in India have a viable foreign market which has helped to generate a business of about 12 billion USD in 2014.
Besides these heavy products, precious items like pearls, handicraft items, carpets, garments and textiles, raw food like Basmati rice, seasonal and non-seasonal fruits and vegetables, tea, jute, wheat and milk products like cottage cheese and butter have high demand in foreign market.
Product list source : – intoday.in
Selecting the right product
With such a wide variety of commodities, it is quite obvious that you will be confused about which one should you start with. On the first note, it is important to eliminate out monopolized items because if you are a manufacturer as well as exporter of such an item, you will have to possess the capacity to supply it either from your in-house or other sources so that inconsistency in supply of products doesn't harm your business reputation.
Your products should maintain a consistency in quality and always at par with your competitors. It would be much better if you opt for the ISO certified products that have a great demand in the international market.
Once you have chosen your products, you will have to find out the regulations that are applicable for your items in the foreign market. It should also have little to no fluctuations in the price so that you can have a decent profit margin.
You are expected to take precautions towards protecting delicate items, obtain the required licenses for exporting processed foods, raw items, chemicals and drugs.
Though often ignored, you should be aware of the disparity in time zones, local regulations and cultural beliefs of the other countries, labeling standards, density of local manufacturers, agents and distributors, taxes and exemptions of taxes, market size and income level of targeted users.
While you choose to export items to different countries, you would not only have to take into account your rivals belonging from your own nation, but local manufacturers of the country where you are willing to sell.
Naming your export business:
To give a name to your export business would be a bit different from conducting your business in your own soil. You will have to determine whether the product that you are selling is exclusive of our country. For instance, if you are exporting Basmati rice or exotic Indian spices or tribal artefacts or souvenirs, give your business a name that instantly evokes a sense of mysticism that can be associated with Oriental culture.
On the contrary, if you are selling a commodity that's available all across the world or doesn't carry an identification with our country then you may give it a name that would help your customers understand their significance as Indian commodities.
But it is entirely upon your discretion to determine whether or not you want your products to be identifiable with your nation. Because, once your exported commodity gain popularity and reputation along with a strong foothold in the market, naming it after the country would be of minimal advantage in increasing the acceptance of your products.
Obtaining the license to start your export business:
An importer exporter code or the IEC would be needed for setting up your export business. This unique 10 digit code shall be issued by the Director General of Foreign Trade of the Indian government. You wouldn't be able to operate your business without having this code number.
To obtain this code, you need to have Certificate of Incorporation, AoA and MoA, PAN card of yours as well as your business concern and 4 recent photographs. You will have to submit the application after filling it up and then your application will be scrutinized by the authority to find out whether you are eligible to conduct the business or not. Once the processing is completed, you are free to start your own export business.
The Importer Exporter Code number is a requisite in case you are willing to take advantage of the foreign trading policies or working with mentioned services or technologies which are not allowed to be conducted when it is related to the nuclear weapon programs in any way.
Also Read : Starting Export Business In India – Procedure & Documents
Threats and weaknesses of running an export business in India
Any business concern that decides to convert its resources for an export business should have to assess the disadvantages and weaknesses of exporting items to a new market. While there are some business owners who enter into the export business just by chance, others deliberately look for opportunities for growth in export business.
It goes without saying that your business would require more time to find a suitable market abroad which signifies that the break even period would be longer. You are likely to incur additional upfront costs to develop a marketing strategy and allocate your employees to travel abroad which may take a toll on your small financial resources.
You would have to modify your commodities as per the demands of the international market as well as to meet the safety regulations of the foreign country. At a preliminary level, you would have to pay attention to the packaging needs of the intended market.
In addition to all these there is also a financial risk associated. Available methods of payments including open-account or prepayment are not just complicated but also time consuming than selling the products to the domestic sales. This is because finding required information about the market where you are intending to sell is definitely much more difficult than that of the domestic market. It would be particularly difficult to find out data about sales, marketing strategy, business growth in underdeveloped countries. The greatest disadvantage of a running an export business is that there are no hard and fast rules that can ensure smooth running of your business. You will have to be very intuitive and patient in order to see desired results.
Scope of growth in export business in India – Export Business Opportunity
While there are some disadvantages of running an export business, the advantages far outweigh them. Selling your commodities in a foreign market would give you a whopping exposure and you will be able to enjoy greater profits once you cover up the development costs. Additionally, most companies tend to operate in the domestic market before they choose to enter into international market. This offers an exceptional adeptness to combat the odds at an international sphere.
Participating in the global market allows the business owners to get a share of the global market. Also, when you will sell your products to multiple markets, you would be able to diversify your products as per the needs and specifications of the demand. You are not required to comply by a single rule that applies to one particular market.
When you are trying to gain exposure in an international market, your production facilities is bound to increase which in turn would allow the lowering down of per unit costs. Also you will be able to sell some products which have seasonal demands in your country but are in demand all round the year in foreign markets.
You will be able to cope up much faster if you incur losses and those products which are in high demand wouldn't require any promotional discounts. The best part of your export business ideas is that you will gain experience while you see your business expanding overseas. The new knowledge thus gained can be applied in strategizing your business and curbing down the power of your competitors.