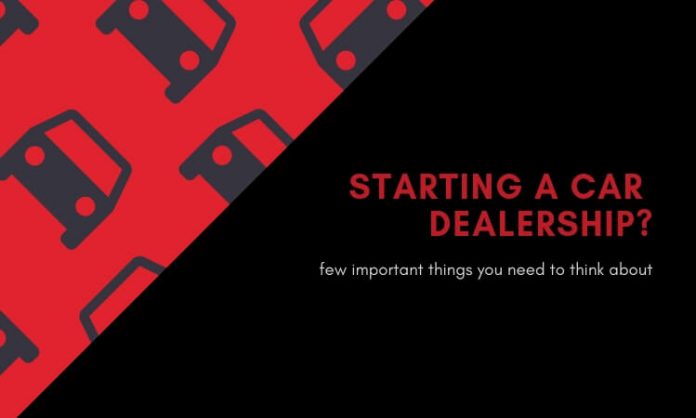 Like many people who live on this planet, you love two things: cars and money. Maybe you've always had a desire to start a business, but you were never quite sure what kind until you saw the latest Fast and Furious movie.
Maybe you've had bad experiences trying to buy your own car and want to help others avoid those troubles. Whatever the reason, here you are. You want to start a car dealership.
Consider the startup cost
If the phrase "easier said than done" ever applied to anything, it applies here. There are quite a few things you need to think about, as with starting any kind of business. But with a car dealership, the startup costs can be particularly expensive.
You'll be dealing with products that cost thousands. Startups don't usually deal in products that cost quite that much. Obviously this doesn't mean you shouldn't do it; it simply means you need quite a bit of capital.
Before you know what kind of capital you need, however, you need to decide what kind of car you're going to sell. Are you going to try acquiring new cars? Or will you be specialising in used cars? Maybe you even want to do both. Of course, if you decide to do both, a bigger time and money investment will be needed from you.
They will also require unique considerations. For example, if you're looking to sell used cars, you need to remember that your customers want to spend less money. This, of course, affects your own profits. Used cars will also usually require maintenance.
Car servicing facility
Speaking of maintenance, will your dealership require a car servicing facility? This could be quite a smart decision. Everyone needs to get their car serviced or repaired at some point. If you offer car repairs at the same place that you sell cars, you're almost guaranteeing yourself customers! This does, of course, require still more capital.
You'll need to get the space in which these services will take place. You also need to hire some muscle willing to get greasy and fix those vehicles!
Sales and customer feedback
You also need to consider the sales side of the business. With dealers at the store front selling and repairmen in the garage, who will deal with external consumer contact? With pursuing possible sales leads? Getting customer feedback? This activity and data is extremely important.
You could consider giving some of that responsibility to a business development centre. A dealership BDC can take a lot of weight off your shoulders here.
Once you have everything meticulously planned out, you should know how much capital you'll need. At cars for sale in Fresno, you'll see the basic but most essential categories when getting a car dealership for a business. If you want bigger, you can take a look at your options. Now it's time to look into getting the loan you'll need. Working with a lender who specialises in business loans is recommended.
If you're going to deal in used cars, you could work with a small business loans company. If you're going to be dealing in newer cars, you may need something larger.
Read more:- 6 Best Business Loans and Lines of Credit of 2019
Whatever you do, try not to borrow too much more than you need! You don't want to land yourself in debt down the road. Otherwise, this may have all been for nothing!