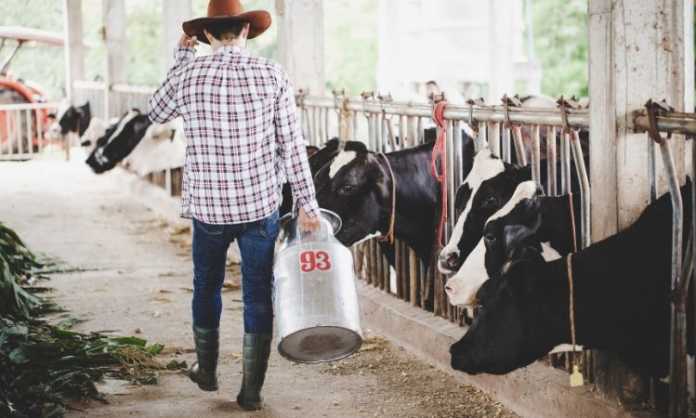 Food is one of the basic necessities for living beings irrespective of the state of the economy, there will always be a demand for loans in the food industry. One such important sector is the dairy industry.
Businessmen who want to start a dairy farm or alternatively wish to modernise or make improvements in their already operational dairy farms can easily avail dairy loans.
The amount of loans granted for dairy farms can go up to Rs 1,00,000 or more. The profit margin for dairy loan amount exceeding Rs 100000 can range from 15% to 25%.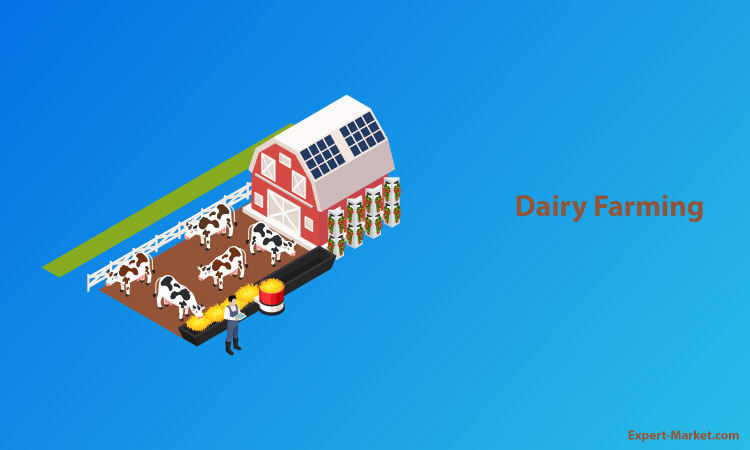 Common Operations of a Dairy Farm
Listed below are some of the general functions of a dairy farm:
Establishing compact dairy units with just a few mulch cattle
Collection, processing, and distribution of milk
Manufacturing of milk products
Feeding green fodder to the cattle
Cleaning and disinfecting cattle sheds and milking barns
Isolation and treatment of sick animals
Caring and treatment of pregnant cows, buffaloes, and bulls
Breeding of "in-heat" cows
Also Read:- Profitable Dairy Farming Business Plan – A Beginners Guide
Reasons for availing a Dairy loan
Mentioned below are some of the most common reasons for farmers to avail a dairy farm loan:
To establish a new dairy farm or for the expansion and enhancement of an existing dairy farm.
Purchase of raw materials
Storage, packaging, and warehousing of dairy products.
Purchasing mulch cattle and animals for small dairy units.
Rearing of baby calves and cross breeding of buffaloes and cows
Constructing and renovating cattle sheds
Purchasing the latest milking machines like automated milk collection and dispersal units, milk chilling systems, chaff cutters, dairy dispensation equipment etc
Cold storage services for dairy products
Marketing outlets for dairy products
Growing good quality green fodder for the animals
Transportation of dairy manufactured products
Construction of offices for milking house or society
Sources of dairy farm loans
Once you have a systematic business plan for your dairy farm in place and you have made a decision to borrow money for the same, the next step is to evaluate the various funding sources and choose the one best suited for your business needs.
A few prominent ones are listed below:
Bank loans
Non- Banking Financial Companies (NBFCs)
Independent financial institutions
Personal loans from friends or family
Self-funding
Dairy Entrepreneurship Development Scheme (DEDS) – The National Bank for Agriculture and Rural Development (NABARD), a government organisation dedicated to the betterment of agricultural activities in India recently launched the Dairy Entrepreneurship Development Scheme (DEDS) for providing financial assistance to dairy farms, employment to villagers as well as improve milk production in the country.
Charges and fees for Dairy Business Loans
| | |
| --- | --- |
| Rate of interest | Varies depending on the institution |
| Loan period | 3 years and 7 years |
| Charges for pre-closure of loan | None |
| Mode of repayment | EMIs |
| Processing fees | 2% of the total loan amount. |
Steps for applying for a Dairy Farm Business Loan
#1. Checking the eligibility criteria for dairy farm business loan
The very first step in the process of procuring a loan for dairy farm is to check whether you meet the eligibility criteria which include your dairy farm, credit score, and background checks.
Dairy farm business loan comes under the category of  'Working Capital Term Loan' which can only be availed by farmers, agricultural labourers, Self Help Groups (SHG), NGOs , limited companies, Individual entrepreneurs, registered partnership firms and organisations, dairy co-operative societies, Milk federations, Milk unions and the likes.
Financial organisations lending the money will also conduct background checks to evaluate your credit score, capability of repayment of loans where the amount is high and also to ask for collaterals, wherever applicable. 
Therefore, it becomes particularly important to first ensure you meet the eligibility criteria before starting the application process.
#2. Arrange all the required documents
The second step in the application process is to arrange for all the below documents that will be demanded in the dairy farm loan application process:
Identity proofs like Aadhar card, PAN card, voter ID, KYC documents, driving license etc
Latest photograph of the applicants
Salary slips for last six months, wherever applicable
Proof of registration and license of dairy business if loan is for an already existing business
Property deeds
Records of the land rented or purchased for setting up the new dairy farm
NOC from Gram Panchayat, if applicable
Address proof papers – Ration card, latest utility bills etc.
Quotations for all the equipment, machinery, and other purchases to be made with the loan amount
#3. Submission of a detailed project report
Once all the documentation is in place, the next vital step in the process of procuring a dairy farm loan is the submission of a bankable and detailed project report that includes your business plan for setting up or upgrading your dairy farm, the strategies to ensure the growth of the business, the exact amount of loan required, details about exactly how the amount will be distributed within the business plan as well as the plan charted out for the repayment of the loan.
#4. Process of application for dairy farm loan
There are various financial institutions that provide dairy farm loans in India. There are two ways of application:
Visit the official website of the financial institution offering the loan
Log in and fill out the entire application form with the required details
Attach all the necessary documents and submit the form.
As soon as your application is duly evaluated by the lender and found to be appropriate, your loan will be sanctioned.
The approved loan amount will be credited to your bank account.
Visit the nearest branch of the bank or the financial institution providing dairy farm loans with the required documents.
The representative will do the necessary checks and if found to be in accordance with their regulations, the loan will be passed and credited to your bank account within the stipulated time.