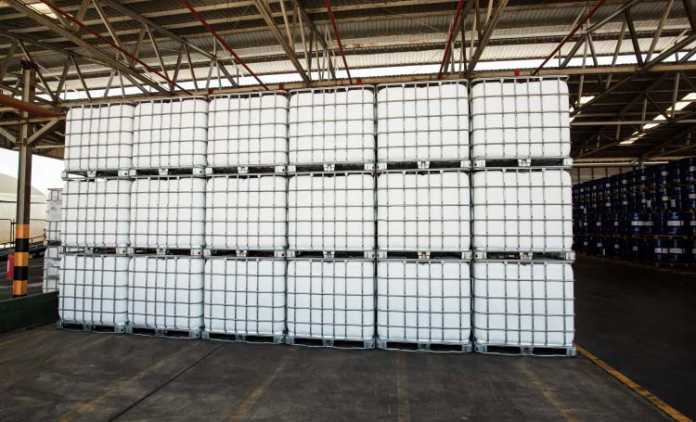 IBC (intermediate bulk containers) tanks are widely used for safely storing and transporting liquid and granular materials. Common uses for IBC tanks include the storage of water, chemicals, energy drinks, compressed gases, fertilizers, liquid detergents and various other industrial liquids. They are also used within the food and beverage industry for storing and transporting food and drink items such as dairy products, vegetable oils, wines, and edible oils. These tanks can also be used to store hazardous materials and waste, as well as liquids such as hazardous chemicals and fuel. Additionally, IBC tanks are used to hold and transport dry materials like grains, plastics, and other similar products.
However, you can comfortably use IBCs from Verdetrader to store your water because they are made from durable materials.
Due to its multi-purpose design and transportability qualities, an IBC tank is ideally suited to hold large volumes of water.
There are many uses for an IBC tank apart from water storage. Additionally, they are easily recyclable which makes them a cost-efficient storage solution for many industries.
You are likely to find IBC water tanks being used to hold water in construction sites or big storage rooms, among other roles.
We have prepared this article to show the importance of IBCs in water storage.
HOW MUCH WATER CAN AN IBC HOLD?
The design and construction of IBCs allow them to accommodate huge volumes of liquid or semi-solid solutions. For this reason, you can use IBC to carry or store water.
Since it is an 'intermediate' tank, an IBC can well hold up to 1000 litres of water or other liquids.
However, the size of an IBC may vary slightly; it may be a bit smaller or bigger not in any considerable way.
WHAT IS THE WEIGHT OF AN IBC WHEN FULL OF WATER?
Like earlier mentioned, when full, an IBC water tank can hold a maximum of 1000 litres. Because of water density, an IBC filled with water will weigh not less than 1000 kilograms.
The 1000 kilos account for the water alone; you will need to add the weight of an empty IBC, which may differ based on the design of the tank.
The construction material of an IBC tank is mainly a hard plastic that is supported by a cage of steel for extra strength. A steel pallet is fixed on an IBC tank to allow for easy lifting using a forklift and transportation.
IBC tanks come in various designs aimed at increasing their sturdiness; however, the more complex the design of the tank the greater its weight.
A typical 1000-Liter capacity IBC will weigh about 65 kilograms when empty. Therefore, when full of water, an IBC tank can weigh about 1065 kilograms.
IBCs with flexible designs are likely to weigh less because they lack a steel enclosure or the pallet mount, and are constructed from woven plastic instead of solid plastic.
Flexible IBCs have reduced solidity and protection, but are more flexible than the rigid IBC water tank.
When empty, a flexible IBC tank usually weighs about 10 kilograms which makes it more portable and easier to compress compared to a rigid IBC.
If you fill the flexible IBC tank with water, then you need to add the weight of the water to get the total weight.
HOW DURABLE IS AN IBC TANK?
The greatest advantage of Intermediate Bulk Container tanks is that they are recyclable. All you have to do is maintain the IBC tank properly and it could last for many years to come.
To maintain its quality, you will need to conduct a quality assurance check on the IBC tank after every 2 or 3 years to fulfil the necessary safety requirements.
The steel cage of the rigid IBC can last for up to 10 years when well cared for; other parts of the IBC tank can be replaced easily.
Worthy to note, the material you intend to store in the IBC tank will affect its longevity. For instance, corrosive or hazardous liquids may wear down the useful life of the tank faster than normal.
HOW LONG CAN AN IBC TANK SAFELY HOLD WATER?
You can safely store water in an IBC tank for a long duration, but you will need to rotate it after every 6 months.
This is because water can get contaminated when stored in a plastic container permanently; for safety and health reasons, it is best to freshen the water whenever you can during the storage period.
For added safety, consider conducting water quality and safety tests before drinking any water that has been stored for a long time.
HOW CAN I MAINTAIN MY WATER CLEAN IN AN IBC TANK?
For health and safety reasons, it is vital to ensure the water stored in an IBC is clean.
After filling the tank with water, you have to ensure the lid is tightly closed to prevent the entry of foreign material likely to contaminate the water.
The most efficient and effective way to maintain clean water in an IBC tank is to rotate the water whenever you can.
Additionally, you may use water purifiers and filtration mechanisms to ensure the water remains safe for drinking in the long run.
However, do not consume the water if you are not sure about its purity and safety; all potential toxic water must be treated before drinking or discarded altogether.
CAN I STACK FULL IBC CONTAINER TANKS?
You can only stack full IBC container tanks if they have steel pallet mounts.
Luckily, the rigid IBC water tanks have been designed and constructed to allow stacking of the containers.