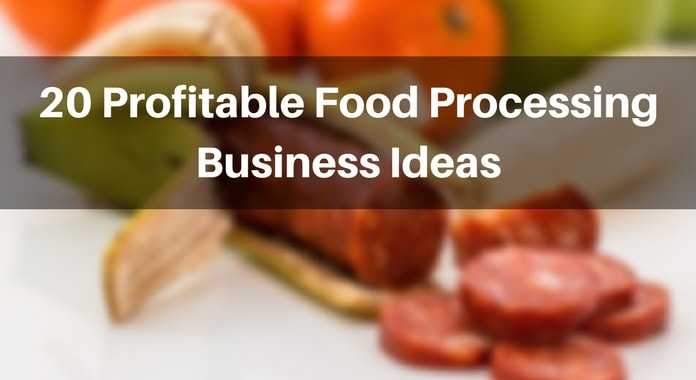 Food processing industry is booming day by day. It is one of the best businesses that you can own these days because of high profit margins. It gives you both an insight into the food world and simultaneously you earn heavy profits from the same. Having said this, let us take a sneak peek into the various food processing businesses ideas with low investment today:
Here is the list of 20 profitable business ideas and opportunities in food processing industry
Cashews are always on a high demand because it makes a great snack. Moreover salted cashew nuts are tasty and more and more people opt for the same.
The main idea behind this business is that cashew nuts are sold at high price because of its high demand and the profit margin is very high in its making. You only need to invest in raw materials, man power and packaging.
The yummy and crunchy potato is a treat for all. No matter what the occasion is potato chips are an integral part of it.
Therefore, these days wafer industry is one of the flourishing businesses and all credit go to its high demand. The initial investment are very less, also the cost of production is very low whereas it yields high demand.
Just like potato chips, banana wafers are another good option for crunchy snacks. Most people find it as a good and alternative option. Hence these wafers have become one of the best selling snacks of today.
The raw materials required for this business is easily available and comes really chip. It is said that the manufacturing cost of a banana wafers packet is hardly between Rs. 2 to Rs. 5, however the selling price varies between Rs. 10-15 per packet which means very high returns.
Different kinds of pickles
Pickles are a necessity when it comes to Indian servings. Every household and restaurants serve pickles and are indeed a need.
Pickle business is good to people who want to enter in the business field. It can be started right at your home on a small scale and once you earn a reputation for your homemade pickles, you can start manufacturing them on a large scale.
Bread butter, bread omelette, bread jam are the daily breakfast food and this makes the bread business one of the best and flourishing business of all time.
Bread making is an art which requires some skills. Therefore, along with the necessary raw materials, you need to invest in skilled labourers however, this is one time investment. Once things are set up, you keep going without a break.
Homemade chocolate making
The yummy chocolates can be considered to be a good business idea and is ideal as a start up. Different flavours, shapes and sizes of chocolates can be prepared. These days' people are switching to homemade chocolates rather than the conventional ones.
Therefore, prepare homemade chocolates and see your business boom. It does not require much investment however the returns are good on the same.
Cheese processing is an excellent business around the world. Cheese is a staple food for many and has a global domination.
You can start this business in your home itself. Processing cheese is not a difficult task and you can begin on a less budget and increase it as you start making money from the business. This is definitely one of the good business ideas to start with.
Cake has become an essentiality in birthday parties and gatherings. Also, the demand for flavoured cakes has gone up. Weddings demand decorative and big sizes cake whereas birthday parties demand comparatively smaller cakes.
This is a good food processing business as you will earn money from it daily. You just need to have an artistic hand for the icing and decoration. Also, you do not need a big set up. Just turn your kitchen into a bakery and bake these delicious cakes.
Papad making is a good food business idea for ladies and it also helps them to supplement their income. These days several types of papad are being made and sold in the market.
You need to spend some amount on advertisement so that people are aware of the product. Once your papad's become popular you are all set for the business. However, your focus should be on the quality and the quantity to attract customers to buy your product.
Different types of sauces
With the increase in cravings for Chinese dishes, the demand for sauces has also gone up. Tomato, chilli, oyster and soya sauces are in high demand these days. Hotels and restaurant owners purchase the same in bulk.
These sauces can be prepared at home and you do not need to invest on a different property. Your primary focus should be on the quality and taste. Once consumers like your product, you can have it as a full time business.
The saying goes like health is wealth and holds equally well as far as fruit juices are concerned. These days more and more people are health conscious and like to have fruit juices once in a day.
This is the main idea behind establishing this as a business. You can start as small as a fruit juice shop or as big as an industry which manufactures fresh fruit juice. The investment required for a fruit shop is minimal and you can earn good profits from your business.
Vinegar has become one of the essential ingredients in your kitchen and therefore you can consider this as a business.
The initial investment is mostly in the form of raw materials and manpower. It requires some skills as far as concentration of liquid and preservatives are concerned. Packaging is really important to attract customers.
Ginger garlic paste making
Time is the biggest factor and these days' people do not have time to use their blender for making these pastes at home. However, ginger garlic is an essential component of any dish and is used widely.
Therefore, ginger garlic paste production is an ideal business and can help you earn lot of money. These days, the packets are available in any local store and people purchase the same as a necessity. Therefore, you can opt for this business as its demand is never going to come down.
The Chinese food has taken the market by storm and noodles are the most popular among them. Children love them and you always have a packet of noodles at your home.
These days even wheat noodles are available in the market which is considered to be much healthier. Therefore, why not try your hands in this business. You require some initial investment to start this business and also some skilled labourers. All you need to focus on is the quality and taste of your product.
Garam masala powder and chaat powder
These are popular home ingredients and are sold almost every day. Therefore, its high demand makes it a lucrative business and yields very high returns.
The masala category can be extended to coriander, cumin, chilli powder etc. as well which are a necessary requirement in each and every household. You need to select a brand name of your product and purity of products is extremely important. Once people like your products, you are all set and on the roll.
Different types of jams and jelly production business
You need to thank all the kids for establishing this as a business. Children are so fond of jams and jelly that you are bound to keep a bottle of them in your house.
Also, this is good as far as business is concerned. Try making different flavoured jams and jellies like guava, mango, apple etc. It must taste great for your products to sell faster in the market. An initial investment is must but profit margins are extremely high.
Packaged mineral water business
There can be nothing more essential for human beings than water, whether you are at home or travelling, having a function at home or a corporate event. Packaged mineral water is a must.
This makes it a lucrative business in food processing industry as the cost of production is very low but the profits are extremely high on the same. The initial investment is very less; all you need to concentrate is on the purity of water.
Ice cream making business
Everyone relishes on the ice creams and this can make it a great business. You can start by selling some homemade ice creams. You could also include some seasonal fruit ice cream which could be an ideal business.
These days' people love the fruity flavour in ice cream. Once people start liking your ice creams, you have a full fledged business in your hand.
This is another great food processing business idea which can yield extremely high returns. Right from festivals to marriages, sweets are used everywhere then why not own a sweet shop.
Dry sweets, wet sweets, mix and match, assorted ones all are in high demand these days. Even restaurants and hotels are in contact with small shops to supply them sweets regularly. Also, there are tinned sweets available. Therefore, based on your investment you can start a sweet business irrespective of the size of the business.
Fast food business is a flourishing business these days. Everyone loves fast food and these stalls are increasing day by day.
You can start your business as small as a stall or own a complete restaurant with good ambience to attract customers. This will require some initial investment but all you need is a complete set up. Once done, your business is bound to flourish. Also, pay more attention to the quality of your food as that is the primary reason behind drawing more customers towards your business.