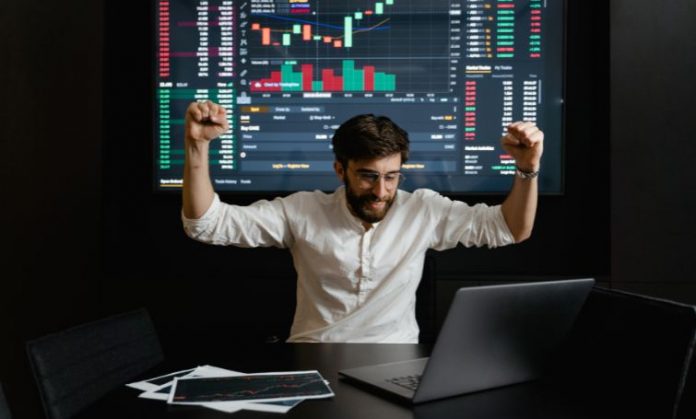 Cryptocurrencies, especially Bitcoin, are the new rave. Promising a decentralized future free of government interference, with power in the hands of the people, it's easy to see why they have quickly gained mass acceptance. But that's not even all. It's true, political freedom is great, yes; but what about financial rewards? With an average annual growth rate of 78%, growing from the $0.08 that it was at its inception 14 years ago, to peaks of $68,649, bitcoin has made several people really rich.
In this article, we explain how you can buy, store, and trade bitcoin on the Metatrader 4 app.
How to trade bitcoin
Trading bitcoin on MT4 is not much different from trading forex. Below, we outline the steps for going about it.
Pick your preferred broker
The very first thing to do is pick a broker. It'll serve you to carefully consider your options and choose a broker that has really committed resources to crypto trading and doesn't just treat it as an afterthought. With MTrading, you get everything – a customer-friendly, intuitive trading interface, succinct educative material, and everything else you might need to trade bitcoin successfully.
Apart from educational support, you also want to be sure that the broker;
Is licensed to operate in Malaysia.
Provides the best trading conditions.
Supports your preferred payment options.
Open an account
When you're satisfied with your choice of broker, you can then go ahead and open an account. Most brokers, like MTrading, usually offer demo accounts for newbies to familiarise themselves with the markets before they begin to invest real money.
This works just like with forex. You'll first have to open an account with the broker, who will then give you instructions for downloading the MT4 app on your device. It's only when this is done, and you've installed the app that you can log in and begin to trade.
Get acquainted with the platform
When you've logged in, you should take some time to just explore the interface and get acquainted with it. Get familiar with the Bitcoin symbol, and learn how to differentiate it from other cryptocurrencies. Picking another crypto in error could be quite costly. Also, learn the indices, technical indicators, and all the tools associated with trading bitcoin on MT4.
How much leverage does the broker offer?
What fiat currencies does the broker support?
What is their minimum lot size?
The procedures for withdrawing and depositing money
Other sundry terms and conditions.
Begin to trade
Now, you should have fully set up your account and learned the basics of trading bitcoin on MT4, you can now begin to actually trade. You can either go long or short on Bitcoin, depending on which direction you think that the market is headed. And to hedge your bets, you can also utilize the "stop-loss" and "take profit" functions, just to make sure any deviation from your prediction doesn't hurt you too much.
Depending on your strategy, you can choose to have your trades executed instantly, or you can wait till Bitcoin reaches your set target price. Just like it is with forex, in trading bitcoin on MT4, you can also build algorithms to assist you. Technically known as "expert advisors" or "EAs", these algorithms can be very helpful for monitoring the market, opening trades automatically based on pre-set parameters, or even copy trading.
Monitor the position
When you've opened a trade, it's now left for you to constantly monitor market movements to be sure that the asset is moving in the direction that you forecasted. If you want to, you can make modifications to your open trades by either opening more positions or part-closing your position. With the EAs that MT4 allows traders to develop, you should be able to monitor the market more closely; when you write the algorithm for the EA to specifically monitor the specific indices.
How to trade bitcoin with leverage
One of the best things about trading bitcoin on MT4 is the access that you get to leverage. Simply put, leverage is debt. To trade Bitcoin CFDs, you don't need to have the entire amount that you need in cash; with leverage, you can take even bigger positions, and earn significant profits. It's a practice brought over from corporate finance.
Take Elon Musk's proposed takeover of Twitter, for example. The deal is worth $44Bn; but of course, even though he's sometimes the richest man on the planet (worth $250 Billion), even he doesn't have that kind of money just lying around. Most of his wealth is in stock options in Tesla, SpaceX, and The Boring Company. To finance the deal, he'll be providing only $21Bn in cash, then $12.5Bn in margin loans secured against his 15.7% stake in Tesla, and another $13Bn secured against Twitter. This is what leverage is.
The only difference is that in online trading, instead of a consortium of banks, the loan is provided by your broker. You can use leverage up to 30:1. But, depending on your broker, that ratio can change. So, if your broker requires a margin of 5%, that means you can open a $100 trade with only $5 in your trading account.
However, it is important that you continually monitor the trade so that you don't get margin called. What that means is that if at any time during the trade, the total amount of funds in your trading account is lower than the required margin the broker will notify you and require that you fund the account, or otherwise get liquidated in a forced sale.
Conclusion
Bitcoin is the future of online trading. Free of government interference, decentralized, and open for trading 24/7, it will continue to dominate the markets for the foreseeable future. However, apart from studying charts and indicators, bitcoin traders must equally monitor news channels for incidents that could trigger market movements.
Get to trading bitcoin with MTrading on MT4 today. With proper application of the technical indicators and other tools provided by MT4 and guidance and resources provided by us, we can help you stay ahead in the market.