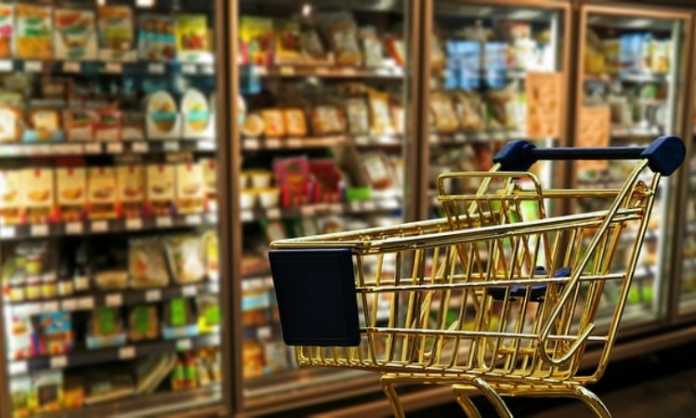 A Supermarket is retail general store that offers various products for domestic usage that briefly covers household items, food products, beverages, daily use items, stationary, etc. all covered under a single roof.
A supermarket unlike a general store that you will see on every corner in India emphasizes on variety of products put on a slab in sections where customer can go, view and pick the product they like. Operating on a large scale, these supermarkets also offer attractive discounts on products to boost sale.
In the last 2 decades we have seen an immense rise in supermarket stores allover India of small, medium and large scale. Customers especially in big cities and those who work hardly get much time to shop and when they get time to shop especially on weekends they like to get products of their need at one place.
Unlike the traditional general store shop that deals with specific products, supermarkets offer range of products that any person may require for general use. This bringing of all necessary products under one roof making it easy for customers to shop made the supermarket business a success and its reach is thriving each passing day.
Super Success of Supermarket and its Future:
As mentioned earlier, supermarket has seen immense growth in last two decades and is still expanding like never before. Earlier these markets were limited to metropolitan cities but they are now expanding to cities, state capitals and also to proper towns.
India has a dozen of supermarket brands that operate at state and national level but the growing popularity of these stores have also attracted regional businesses in investing in them. Now at the local level many traditional businesses are shifting towards supermarket style retail business house where they are offering products at par with top brands in India. They are also offering discounts, products at relatively cheaper price, hospitality, smart service and option of return and exchange.
Big supermarket businesses have advanced their reach by applying data mining and business analytics in order to attract and push customers to buy more than the products they aimed to buy before entering the shop. This has very much influenced and attracted the India middle class customers who want cheap yet quality products are good bargain.
If one wishes to invest in supermarket kind retail store then there is much to gain in it given they operate using standard methods rather than just copying and pasting other business models.
Supermarket Business Plan and Establishment:
If you have made up your mind to invest in supermarket business then you are welcome to proceed. The first thing that matters in starting any business is the prior planning. Business planning require adequate research on the market which will give you a perspective into the business and will also give ideas for your business. Starting a supermarket business should concern the interest of the customers. Here are few important factors that will guide your business plan.
The first important thing is the place of your business. If you are establishing your business in a metropolitan city like Delhi or Mumbai, a city like Pune, Indore, a state capital like Lucknow, Gandhinagar, or a town like Jaisalmer, your supermarket business structure will vary from place to place.
Each of these places have different set of customers, big cities have rich customers who can afford branded top quality expensive products while small cities and towns make like imitation of those branded products at cheaper price.
Market size will also matter and range of products will also matter. People of small cities and town have limited exposure and thus their demand often get limited to a range of products mostly the brands and items they hear from others and through ads.
Price is the biggest concern because customers of different places have different budget for shopping. A person earning 50K INR can afford a limited amount of products per month.
After deciding the above concerns you will have to establish your supermarket whose first step would be an infrastructure. The size of your supermarket infra will definitely depend upon the customer base you are going to attract and the variety of products you would offer for sale. You will also be required to select a location in sync with the local laws and convenience of both customers and yourself.
Feasibility Analysis and Data Mining:
The above two methods will give you deep insight while you are going to proceed with your business establishment. Data mining is one of the most popular methods of analyzing data in order to get better understand of market. This research will help you in following ways.
Understanding the market you are going to invest in
Knowing about your competitors and how you can excel against them
Shopping patterns adopted by your customers as they shop, what products are their priority, most sold product, brands that are in sale, latest trends, etc.
Maximum, average and minimum expenditure customers do while on shopping on monthly basis
Keeping all these things in mind your supermarket business design will be carved. You may collect data by getting reports and figures of monthly supply of products to the place of your business, what products are mostly consumed, price range, brand, etc.
Registering your Supermarket:
Registering your business is the formal step you take towards making your business a reality. There are obvious steps required to be taken in order to formalize your business.
The first step is obtaining a trade license from the authority. You will be required to furnish some documents including your PAN card.
The second step is getting your business registered under Shops and Establishment Act of 1953 that lays down certain rule which should be followed by every shop owner. One is getting a food license for selling goods which requires permission from FSSAI. You can now even obtain such permissions online by fulfilling the criteria mentioned.
FSSAI is a body that governs the food quality of the products sold in the market. Nearly every packaged good comes with a certificate and number from FSSAI that guarantees quality in product. Permit needs to be taken based on your turnover. You can apply online as well.
Taxation is one such important aspect of every registered business. You can visit the GST portal online and register yourself as a proprietor or of any other business structure you plan to start your business as.
If you are starting at a local level then a proprietorship and partnership firm is mostly common. Furnishing the required documents you can register your business under GST. It takes a week or two to formally get your GSTIN. Some of the basic documents you will need are:
PAN Card
Aadhar Card
Electricity bill to recognize your business space
Bank Statement with valid bank account
Photograph
Previous tax records or TIN under VAT
Certificate of Establishment
Other steps like a business space for lease for your supermarket, business structure are also necessary. Most lease contracts are governed by the Indian Contract Act, Transfer of Property Act and local rent control laws like the Delhi Rent Control Act.
Investment Required in Starting a Supermarket:
Investment for your business is one of the most important part of your business. Without investment there can't be any business. A supermarket business is cost consuming business that requires a decent land space, a parking space, a well-structured infrastructure, stocks that you will sell, manpower to manage your business, servicing, rents and other expenditures.
Your business plan would probably have a detailed analysis of the capital investment you would require which will carry all the expenditure of everything you need for your supermarket business. The location of your business plays a key role in deciding the amount required for investment. Obviously you have to choose the location wisely making a fine balance between the crucial location and your expenditure amount.
Since it may not be possible to have that much of capital with you as bank balance it would be necessary for you to arrange money from elsewhere. The first choice should always be a loan from the bank. The second choice is partnership with other stakeholders but that may decrease your freedom and say in the business. The choice is always yours. If you are opening a supermarket franchise of some big brand, they will help you in securing loan easily because of their market credit.
Finding Vendors for Stock:
Vendors are the one who will supply you goods for your stock which you will sell in your supermarket. It is quite important to choose the correct vendor for your business as it will impact your sale and profit. As your business will grow there would be circumstances where you may need urgent delivery of goods and in some cases you may have to return those stocks which remained unsold.
For this there should be some flexibility between you and your partner. The second important aspect is the price at which you receive those products. Since you will be giving various discounts to your customers it is obvious that you will expect goods at cheaper price from your vendor.
Thus choosing a correct vendor is necessary for both quality and price of goods. Lastly, delivery is also an important aspect. When you are ordering goods from far region like from one state to another, prompt delivery is necessary as delay in delivery will cause loss to your business.
Typical Supermarket Merchandise:
It would not be advisable or sane in selling items based on generalization. Just because you saw certain items selling in a store in Delhi and you find it attractive doesn't means that you will also need to have those products in your shop which is based in a small town. The choice of such merchandize depends on some of the following reasons.
Demand in market
Affordability of customers to purchase those items
Level of demand whether high, low or medium
Accessibility of those products in the region
Overall, by selling those products you will gain profit?
Such questions are must to answer when you are filling your supermarket with different products because if these products do not get much customers then it will be your loss. Some of the common merchandise every supermarket has are:
Common eatable items available for general use
Snacks, soft beverage that are in trend
Vanity products like beauty cream, moisturizer, comb, etc.
Items used in bathroom like soap, shampoo, face wash, detergent powders, etc.
Tea, coffee, sauce, etc.
Cleaning items require for domestic cleaning in kitchen, rooms, bathroom
Meat products both packaged and non-packaged
Baby care products which includes nearly everything a baby needs
Dressing items including latest fashion wear for men, women and children'
House ware, cooking utensils, decorative items, etc.
Electronic items for domestic purpose like iron, microwave, TV Fridge, etc.
Furniture products
Cosmetics, hygiene products, grooming item, etc.
Apart from these one can have special selected items which can be based on requirement.
Store Design and Fixture:
Based on the capital investment you can make it is obvious that the size of your store will be carved out based on the returns you will be making. So if you have a small space for your supermarket then how will you be managing various merchandize in your store and also make it representable. The only answer to this question is perfect and innovative store design and fixture.
Hire a professional who can provide you with latest and most innovative designs for your store that makes it easier for you to store numerous items in your store without making it look too much packed.
Also, those designs should also be flexible in order to accommodate different types of products with changing market needs and seasons. Wooden fixtures are not flexible and are subject to damage in a short time and they also do no look attractive.
Advertisement the Key for Success:
Ads are must in order to draw maximum customers to your store. You can advertise using the traditional and digital methods targeting your potential customers. You can give ads in print media, local media, digital media, and online media and in the form of hoardings and billboards to attract new customers.
Secondly, such businesses also grow mostly by word of mouth. A customer who returns satisfied from your store goes into his circle and showers praises. This happens mostly in small towns where the social circle is small and limited. Such confidence and trust is what makes your business successful and it is much more attractive than the paid ads you publish.
Also, do not exaggerate about your products in order to attract maximum customers. Tell them the reality and not some fiction which makes reality completely different from what you have claimed in your ads. This may attracts customers initially but breaks your business within a small time.
Get Billing and Inventory Software:
Since you are using modern day supermarket business module this means that everything you will have in your store should be based on modern parameters. You can't use a paper based billing method while billing your customers not that it is outdated but it is also time consuming and laborious.
Presently, most of the businesses are using digital billing methods using computer based bill generation. For this you require an effective software for billing purpose. This software should also have the database of your products you sell and their selling record which will help you in later time for data mining.
Also, have a feedback response system that records feedback of your customers. Make sure your software works error free and is also fast.
Hire Service and Staff:
Though the basic model of supermarket is based on the idea that customers will walk into your store, select items they want to purchase and get it billed on the counter. But even for that you require efficient and prompt service in order to ensure client satisfaction.
There may be trouble for customers to find the items they are in search, those items may not have price tags, and those items may not be of standard use. For all these purposes you require a prompt staff service standing on toes for customer service. The billing service is of much more importance.
Ensure that customers coming on the billing counter are set free within few minutes. Have different counters to ensure that at the time of traffic there is no delay. Also hire learned and efficient staffs for billing purpose to ensure that they do quick billing within short time and that too without error.
Add Home Delivery Option:
People these days have become lazy or they do not have time to visit stores for shopping. You can always provide home delivery service for certain items. This may require transport vehicle like a bike or car for transporting such goods. Based on your profit and loss you can decide whether the delivery should be free or with cost.
In the end, what really matters that your supermarket should not only be rich with infra and products but is also very prompt in rendering service. People like to visit stores that make them feel important and entertain their smallest request with patience and generosity. Above all, whatever steps you take always look with the eyes of a businessman whether such step will lead you to profit or loss.