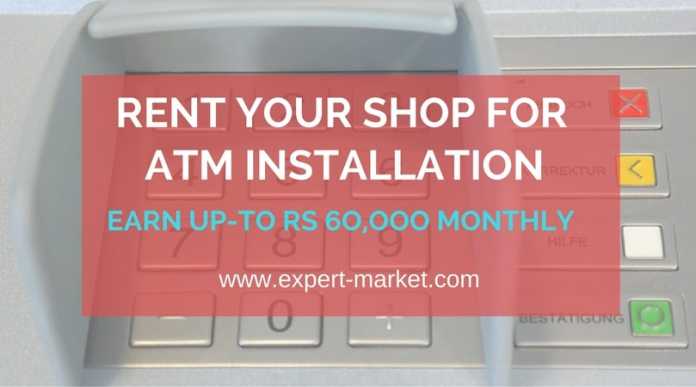 Lot of businesses in today's world is seemed to be reaching its heights due to the demand for the place required. Any business would require place to execute its functions and for this the place may be owned or rented.
Here is a business which is favorable for the people who would like to let out the place owned by them for rent. This might be a house or a room. The amount of income from renting the place is highly repetitive and recurring, which is usually on monthly-basis.
The demand for the ATMs through renting places:
Over the past years, there has been a high demand for renting the places for ATMs by banks in the country. The banks usually rent the place for the certain amount of years and the contract is renewed every two or three years.
There might be an increase in the rent ranging to ten percent or a little more as per the market standards.  Hence, it would be a good decision to lease it out if at all you are looking for a larger amount to be invested in a different business. You can however make a good amount from renting out the place to the banks for ATMs, provided you are looking for a monthly income. You can rent your space for bank ATM easily by approaching the bank concerned person.
How To Approach Bank For ATM Installation
You can approach bank directly if you have seen any advertisement by bank for installation of ATM in your location. Most of the banks generally publish advertisement on local newspaper. Every advertisement is valid for certain period of time i.e Bank may publish advertisement asking interested person to apply between mentioned date. After advertisement, bank will publish a application form on their website. Interested person should download that form and fill the required fields by giving detail about your property. After that, bank's marketing team will decide suitable place for ATM installation.
Apart from advertisement on local news paper, banks also publish ATM space requirement details on their website under tender section. You should check every bank's website regularly for such advertisement.
How Bank Selects Location For ATM Installation
Every bank has its own guidelines for selection of location which is decided by their marketing team. Below are some of the points they consider :-
Location nearest to hospitals, college, government office, railway station and bus station is highly preferable by bank for new ATM installation.
Apart from above mentioned location, if your property is in locality where foot traffic average then it is good for you that they may consider.
If your property is not in ground floor then you should not apply for it because ground floor property is a must.
Easy accessable from main road with foot traffic.
Commercial property is a must. If your property is not commercial type then you should get it approved for commercial purpose by Municipal Authority.
Commercial electricity, Electricity load depends on number of ATM to be installed. Generally 6KVA load is required for 1 machine installation. You have to get the connection of required load by your own.
Rolling shutter should be there in your property.
If parking facility is available then it is added advantage for you.
The things that needed to be kept in mind while renting out the place to the banks for ATM Installation:
First and foremost, the space which is to be let out for ATM should be on the main road. This is because it has to be accessible to the people for making transactions. It has to be secured enough for the people using ATM, hence, banks do not look out for remote areas for security reasons!
Make things clear with the bank, which might be through direct contact or through brokers. It is recommended that you should contact bank directly for ATM installation at your place, every bank branch has a concerned person who take charge for ATM machine installation.
How Much Rent You Can Expect
Rent depends on location. If your property location is in main road and nearest to hospital or railway station in metro cities then you can expect something around 50,000 to 60,000 INR. If your property is inside a colony with average foot traffic then you can expect around 7,000 – 15,000 in non metro cities.
It generally depends on many factors and every bank has their own criteria.
The Demand For ATM Space Has Taken a Hike:
The demand for renting places for ATMs has reached high for past some years because every bank wants to provide good service to their customers. You cannot imagine a bank with only 2 ATM in your city. Every bank want to reach all customers by providing easy accessable ATMs for daily transaction. The demand for the ATM space around the country is high based on the percentage of the number of banks available.
If you have a space attached to your house or a business place, then go ahead and rent it out safely and confidently for a continuous income.