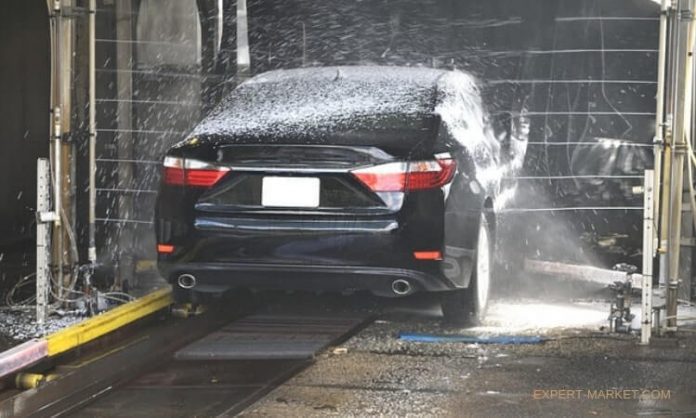 This is probably an ideal time to bid adieu to those mundane, clumsy car washing units and begin a new era of car washing that proffers a fine blend of individualism and world class services.
In the present time, when everything is running at the fastest possible pace, all car owners would definitely love to get their car washed and cleaned by a trained professional within a very short span while they can relax over a warm cup of tea or coffee at an extended cafeteria and enjoy their car being cleaned to get back that pristine look. So, setting up a car wash business in India can be the next big thing for you.
Also Read: – Door to Door Car Wash Franchise Opportunity in India
Why car washing business and what's so unique about it?
Car washing general involves a wide array of tasks including wash, clean, dry, polish, service and even provide cosmetic detail when required. It is worthy to note here that car washing business doesn't involve repair and replacing motor vehicle parts.
The preliminary tasks of any car wash business are full or self-service and automatic or manual servicing that requires various tools and techniques such as hot water, mild pressure, steam, detergents and liquid wax for giving the vehicle a dirt-free coat.
So car wash business can be your next profitable venture and you would be able to be highly successful with ample research about the various aspects of the job. If you are really interested, take some time out and pay a visit to a car wash enterprise in your locality to have a vague idea about how things work.
There are various factors and like any other business plan, you will have to devote most of your waking time to understand all the prospects and single out a type of vehicle model that can suit your business and investment plan.
Who are going to be your target consumers?
Though car washing was something that was mostly secured by those belonging to the upper strata of the society owning luxurious cars few years back, today even the middle class users are not only owning perky cars but adopting all means to keep their car safe and secured and appear brand new. So, on a surface level, it can be deduced that anyone who owns and loves his or her can be your prospective customers as long as you are able to offer top class service at an affordable price.
In order to increase your prospects, you can look for establishing an outlet in a posh residential area or some other region that is prone to heavy traffic during most of the time.
At present there is a huge gap in terms of the total number of vehicles sold and that which are cleaned and washed. There are about 35 million private cars running across the country that is deemed to be the 5th largest in the planet and rising at an overwhelming rate of 10 percent each year.
So, the car washing industry is definitely going to become a leading industry in order to cope up with the rising number of cars. All these, coupled with an increasing awareness would make your business a highly profitable one with the passage of time.
How can you start your own business?
Car wash business wouldn't be successful on its own and therefore your understanding and care are critical to its success. Once you are determined to build your own car wash business, you will have to select a location where you want your business to be built.
After you have chosen an area, drive around and have a close look at thriving businesses, relative traffic and anything that looks to be sold. Try to get a feel of your potential market and never make a hasty decision.
You should pay minute attention to the prospect of a car wash business in the area, potential customers, if there is already any outlet offering car washing services, whether is it up to a top notch standard, whether the owner would be able to spend enough to renovate and come in line with you, whether it would be able to cut down charges for outcompeting you and whether its users are very loyal to the concern or whether they are compelled to opt for it owing to lack of better option.
Each of these points is immensely crucial as an entrenched local rivalry can be destructive for your business and therefore you should aim to select a location with an elbow room between you and your contender.
How to register for and get your own outlet?
Now you have chosen an area and probably started making plans about the layout of your service point. Meanwhile, look for a local authority that's in charge of handling business licenses and place an application request and ask the concerned authorities about local utility usage codes, revenue rates, insurance needs and most importantly obtaining a trade license.
Every city has its personable set of rules and guidelines that it expects the subjects to abide by and as a responsible entrepreneur, it is your sole responsibility to stay informed about various aspects including if there is any particular regulations of sanitary sewage for the waste water, limitations on water usage, utility pricing among others.
Your next set of tasks includes consulting with a planner regarding the plan you have in mind and whether it is plausible enough within the available space in your chosen locale. Once you have procured a verbal approval, it is now time to arrange for a formal meeting for presenting your plan and get it approved by the local development council. Be friendly, optimistic and grounded in your approach and you are going to have a great investment potential that would attract users towards your concern.
How can you market your business?
With sufficient number of servants or drivers doing their needful jobs, you may be compelled to ask what is the need of a mechanized car wash and whether anyone would be interested in shelling out extra penny and travel along a car wash station. But according to the experts, domestic aid often grabs the same piece of cloth over and over again which does nothing other than giving some scratch marks on the highly finished paints of the car.
But an automated car wash station uses a touch-free jet of high speed water that would help in keeping the shine and shimmer of the paint intact. So you would have to market the business in such a way so that it appeals to those families that owns a premium car and both the spouses are working that deprives them from taking a proper care of their car.
Though you know all these, you cannot expect your prospective clients to queue up without any accountable effort from your end. Try to reach out as many people as possible through online advertising, print media and even obtaining huge billboards all of which would signify the fact that you have finally hit the town and waiting all to arrive at your grand opening. You may even offer attractive discounts or goodie bags or anything that your budget permits to entice your customers.
What should be your profit margin?
Investment is definitely going to be the lifeblood of your enterprise as it is with any other business. If you can properly plan right from the beginning and implement all the schemes, your return on investment or ROI would really be high within a short time frame.
According to experts, your investment should be complying with the variant of infrastructure as well as the location where you have set up your organization. If your capital does not permit, you can begin with normal washing of cars and even bikes and slowly expand your business by incorporating complex infrastructures, newer technologies and methodologies as per the demands and your profitability.
But you will also have to educate yourself about the intricacies of the new technical advancements in order to stay ahead of your contenders and help the business run smooth. Slowly, you will see that your primary revenue is generated from recurrent orders by loyal users who have developed a bond of reliability with your enterprise along with the royalties you are due to receive in future.
How and why you should educate yourself about the business?
As an entrepreneur, you should first educate yourself on the fact that strength and weaknesses are the two inherent factors of any business and your present venture is no exception to that rule. Help yourself with a well formulated business plan that can provide you with a clear cut idea of the financial, material and human resources you will need for making money.
Be realistic about your expectations regarding what a car wash business can fetch you in terms of profitability in your chosen zone of operating. As a crucial part of your scheming process you can conduct a SWOT analysis that would help you to be realistic about the strengths, weakness, opportunities and threats of your chosen field of business. Though you may exercise a certain amount of control on the strength and weakness of your business prospect, opportunities along with the threats are normally driven by the external factors of marketing.
When you are dealing with the first two aspects, your entire focus is on the present whereas in case of opportunities and threats you are much more concerned about the effect of future on your business. This basic education would help you involve your team together and even trusted and experienced advisors such as accountants or business counselors who can make you achieve what you are craving for.
What can be called the weakness of car wash business?
When you are starting a new business, it is very important to be optimistic but that doesn't signify you will undermine the weaknesses underlying. Though brushless washing is gaining in popularity along with high quality waxing, the total number of such customers is not sufficient enough to help you earn a living.
Other negative aspects of this business line include the dependence on day to day weather and overall seasons which would prevent you to earn consistent income throughout the year. During the initial stages, this would be very frustrating as you would have to overcome all these uncertainties at a time when you are willing to grow.
The second thing that may stand in your way of success is the machine downtime of your cleaning equipment that can even result in the loss of income until you get your machineries repaired and replaced.
And to add to your misfortune, if this happens at a pick season then nothing would appear as frustrating as sitting with some dilapidated equipment and helplessly waiting to get it fixed. But, your personal abilities as well as skills would play a great role in alleviating these issues and prevent the smooth running of your business from being jeopardized, even if it is for a time being.
What are the scope and opportunities of this business?
Though the business of car washing has not gained in popularity in smaller cities and outskirts, it is slowly evolving as profitable business in the metro cities across the country. Besides, the growing influx of pricey four wheelers in the urban regions is helping to open up new vistas of opportunities to all those who are willing to earn a living by offering car washing and servicing.
It goes without saying that individuals who have spent their fortune in buying a car of their dreams would definitely make sure that their priced possession is taken well care of and washed and polished by trained professionals after regular intervals and this is the main factor which has triggered the trend of establishing car washing business in the country.
Plus, the annual dispute running through the sinews of the country is lack of proper water supply which provokes a sector of customers to take their car for professional washing even when they are not willing to or knowledgeable about all the steps involved in washing the car. Though, it would take several years till this business takes the shape of an organized one and enjoy the status of a reputable business in the country, you can still reap the benefits of all it has to offer.
What are the probable threats of car wash business?
As long as there are cars on the streets, the demands for car wash services would also increase. But as with all other business, you too, may suffer from certain threats while operating. Labour problem, lack of water supply, limited prospects of the geographical location and off-seasons are some of the most important threats to your business.
When you are operating a full-service car wash business, you shall have to hire as well as manage a full staff of workers. While this is quite feasible during peak time, it may appear burdensome for you to pay off all your staff from your own pocket when your business runs low.
You would also have to deal with a host of clients who would loom for better service within the same budget and there would be some who may be discontented with the finished product. Plus, if don't possess a sound mechanical knowledge, you would have to look for a trained, skillful and experienced maintenance employee and hire him to take care of any mechanical disputes of the car during the busy sessions.
The most important thing is that like all other enterprises, your business is also vulnerable to profit and loss and therefore you should manage your cash flow quite efficiently so that a string of unforgiving weather is not able to take a toll on your determination to serve the best of your abilities to your customers.