Running a business will never be a walk in the park, especially with the number of competitors you need to deal with. Apart from ensuring that your products are high-quality, you also need to guarantee that everything in your business will flow as smoothly as possible. This includes your packaging as they carry your brand image and how it handles your product. As you choose the best packaging style, it'll be nice to spice it up by adding some holiday spirit.
As the holiday season approaches, companies are slowly incorporating holiday elements into their products. It could be releasing a new product variation that emphasizes the festivities. But apart from the actual product, consider having the packaging to be coordinated as well. This will give your customers a full-blown holiday experience. To help you out, below is a holiday packaging guide to impressing your customers:
Switch To Festive Shopping Bags
If you're using shopping bags as your primary packaging material, now is the perfect time to switch to festive shopping bags. While using your regular ones would help to emphasize your company branding, it'll be great if you could add a holiday touch to it.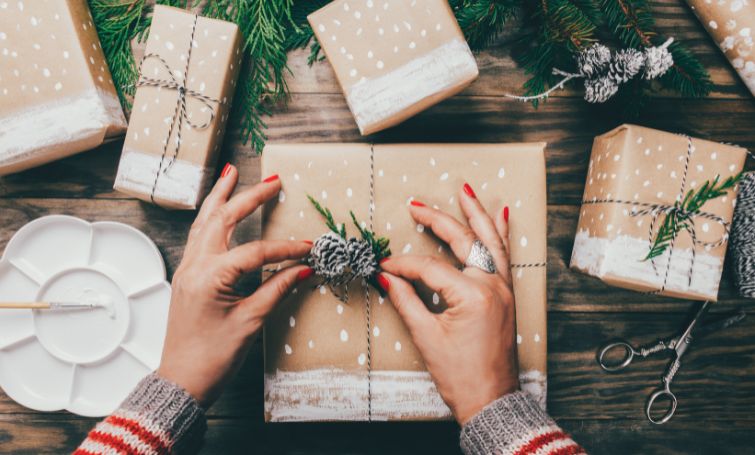 As you go with custom paper shopping bags, you can switch the colors into something more festive or just a few details. You could add a candy cane, ornaments, snowman, gingerbread, or anything that reminds you of the holiday spirit. Ideally, you should choose a design that aligns with your company branding for a well-coordinated look.   
Add A Themed Tissue Paper
When giving gifts to people and you choose to add them inside a paper bag, you always tend to add tissue paper to make it look grand than plain. Apart from using this technique to give gifts, you can also use this for your company's packaging design. While a standard plain tissue paper would work, it'll be nice if you could notch it up a little by using a themed paper instead.
There are plenty of themes you can go with tissue paper. You can either customize it so you can still include your company's logo or just go with basic yet festive patterns. It could be using stripes or polka dots with small shimmers around each line and dot. It's simple yet sophisticated, as it helps instantly deliver a holiday vibe effortlessly.
Add A Holiday Scent
Apart from what you see, it'll be great to bring the holiday spirit to what your customers smell. As you pack your customer's order inside the bag, you might want to seal it off with a few sprays of a holiday scent. This way, they can be greeted with the holiday spirit as they open their purchase and feel the festivities surrounding their room.
There is plenty of holiday scent you can choose from. You can choose between taking inspiration from candles as they release the aroma of pine, cinnamon, and peppermint. Ideally, you should also select an oil-based scent so that it'll last long inside the bag for as long as possible. You don't have to be too vigorous about this. As little as two to three pumps would suffice and make everything smell amazing.
Make It Sparkly
One thing that'll never go out of style when it comes to bringing out the best holiday spirit is making everything sparkly. With a little sparkle, you can allow everything to be a little bit extra for your business. It could be making the actual product packaging sparkly or just the bag that comes along with it. The sparkle any product gives would bring the holiday spirit to life, as it's not regular that you get to see so much shine in a single product.
To make your packaging sparkly, you can use glitters, sequins, or even holographic films to be more minimal but reflective. However, keep the sparkle balanced as you don't want to blind people to your shine, just enough to attract them.
Consider Switching To A Box
If your budget allows it, you might want to consider switching to a box as your packaging material instead. A box helps to give more exclusivity to a product, making it look more luxurious and graceful. However, if this won't be the best option for your profits, you might only consider offering this to bigger purchases. This might even encourage your customers to buy more, so they could get the box as their packaging.   
When switching to a box, try to make it as luxurious and festive as possible. You could add a tactile finish, such as debossing or embossing its surface with your logo. Ideally, you should use high-quality material for this type of packaging as it'll help to make it look more upscale, fancy, and classy at the same time.
Enable Gift Wrap Option
Since the holiday season is nearly approaching, some people might be in a hurry to do some holiday shopping to avoid dealing with the last-minute shopping rush. To help your customers, you might want to offer a gift wrap option so they don't have to deal with wrapping their gifts individually, wherein you can provide that offer yourself. You can either charge them for this service or allow it to be free.
Since you're gift-wrapping your products for your customers, it'll be nice if you could also add a good branding strategy. This can include adding a small pattern of your logo around the wrap but still emphasizing the holiday vibe into it.
Finish Off With A Ribbon
There's nothing more festive than adding a ribbon to your product packaging for your customers and giving off the best holiday vibe. After packing your customer's orders, you might consider finishing them off with a ribbon to seal the look. This would go great for boxes, as they look more festive and luxurious. However, for your paper bag packaging, you can still let a small hole on the top of the bag and let yourself insert them to seal it off.
Similar to other points above, you should also include your company's logo on the ribbon by customizing it. It'll help to make it look more festive yet luxurious as you take the effort to customize every inch of your ribbon. But try to make it subtle and balanced, as you don't want to flood your entire packaging with your company logo.
Takeaway
Impressing your customers with good holiday packaging is one way to increase your sales and make them happy. With the right mix of alternatives, you should be able to find the best option that helps to deliver the holiday spirit but also gives you enough profit to keep your business up and running. After all, the main goal is to let everyone feel festive and embrace the holiday spirit as it approaches.