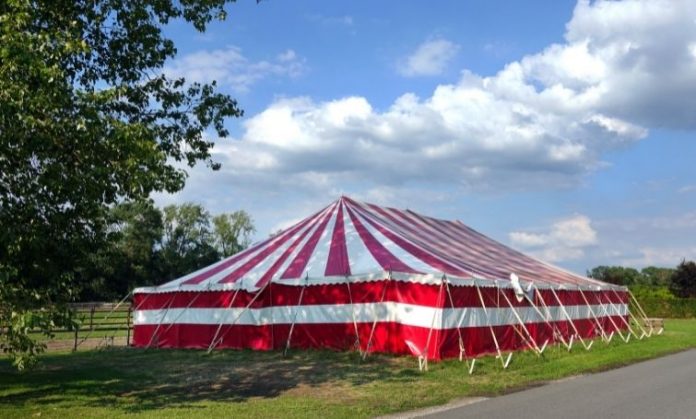 Product launches, trade shows, and expos are just some events that small or big businesses should prepare for. Whenever these events happen, the presence of a large crowd is expected. This means that this is a huge opportunity to plug products and make them known to the general public. However, you must have a strategy since all other businesses, even competitors, are trying to do the same thing. This situation makes it hard for your business to stand out among others.
During product launches and trade shows, your business is usually given a space to display, promote, demonstrate, or just communicate with clients. That's why you need a marquee. Marquees are those large tents you often see in social events that serve as a stall for a company to do their activities.
Imagine your competitors have a huge marquee, while your team just stands there holding fliers without even a proper space for potential customers to sit. Worse, guests might not even notice that your company is there. That's a terrible experience, right? That being said, it's a must to invest in custom marquees. If you're not convinced yet, here are five reasons why:
1. Boosts Brand Awareness 

Custom marquees enable you to print the brand name and logo of your business to the tent so people can remember your brand easily. Putting up your business' name boldly across the marquee makes it visible for consumers to be familiar with your brand, and this is also a great way to get the attention of the crowd during the event.
This tactic is a marketing strategy that helps heighten the curiosity of prospective clients and the attendees of any event. You can also utilize the space well by displaying your products or performing some gimmicks to drive attention. You can buy a custom printed marquee from trusted marquee suppliers so they can assist you in creating an outstanding layout that suits your corporate image and branding.
By exerting time and effort to put up a custom marquee, people will have a good impression that you're confident with your business. When you set up a marquee to promote your business, you can properly introduce your business and engage existing clients. You can also form relationships with new customers and potential partners or investors.

2. Serves As A Free Advertising Space
Custom marquees don't only serve as protection against sunny, rainy, or windy weather conditions while outdoors, but their roof and side poles may serve as an advertising space to hang posters or logos. For business purposes, marquees are used to display your products and services. The design and layout of your marquee can be the logo of your company.
You may also hang posters that consist of details about your business and any other promotional stuff you want to make known to people. Marquees are a big help to advertise your business. For some companies, instead of investing in marketing materials like posters and banners, they just set up a marquee outside of their business establishments because passersby tend to notice it easily. Aside from that, it also serves as a functional space where your agents or representatives can accept queries and concerns from walk-in customers.
Once you invest in a custom marquee, you can put it up in various events, trade shows, expos, and company events. There's no need to reprint posters and tarps since the marquee can be customized with your brand name and logos. Moreover, you don't have to rent additional space to put up new promotional materials since the marquee is already an ad space by itself!
3. Flexible
Custom marquees are flexible because it's multipurpose. It can be designed and tailored depending on the objective of the event. Just make sure that the one you're investing in can be used in all kinds of business events, so you don't have to redesign the marquee to fit new requirements and specifications
Marquees can also be used either indoors or outdoors. But it's best to choose a marquee that's weatherproof so you can use it anywhere. If your company regularly holds events, you may opt for an expandable type so you can easily adjust its size depending on the expected crowd.
4. A One-Off Investment
Some marketing materials like billboards, posters, or flyers can only be used once, but with a custom marquee, you wouldn't have to worry about maximizing its usage since you can have it anytime and anywhere. You'll surely get your money's worth as long as you invest in a durable one because it can last for years.
You may spend thousands of dollars just to avail a custom marquee but think of it as a one-time investment. You don't have to spend the same amount for your future's use. Carrying out your event in your custom marquee is much more affordable and practical than renting out spaces or reprinting posters and marketing materials.
5. Convenient
If you were not given enough time to look for a party space or an events area, the use of a custom marquee is a good option. You can set it up and dismantle it with ease, even without much manpower. Another reason why the use of a marquee is convenient is its portability, you can easily take it to any location. And when the event is over, you can fold and pack it up for storage.
It's also low maintenance. You'll just have to clean it before storing it to prevent rust buildup in its steel frames. If you notice a hole or tear in the marquee's coating, patch it up immediately so it won't worsen.
A high-quality marquee also ensures the safety of the people who'll occupy it. Most custom marquees offer protection against the sun's harmful rays and are resilient to strong winds, so you'll have peace of mind conducting your outdoor activity in any weather condition.
Final Thoughts
A custom marquee is designed to give your business a sense of identity and improve public perception of your company. It might look simple, but it is actually a representation of your company. Custom marquees are a worthy investment. They are not just functional, as they can also be used as promotional material for your business. Most of all, they are durable, easy to set up, and store. Custom marquees can be used by your business in various trade shows and expos under any weather!