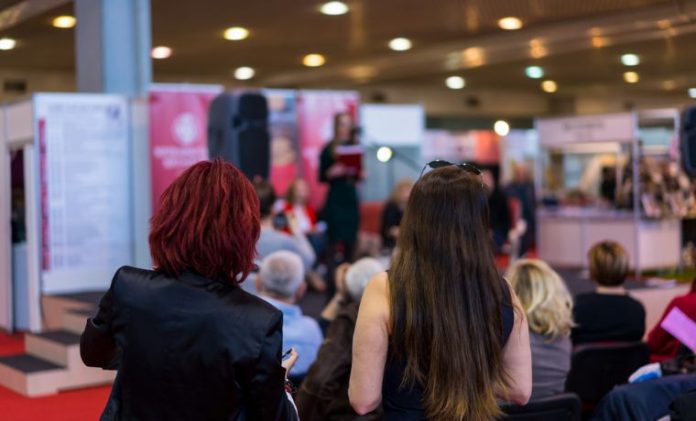 Event planning can often seem like a maze, especially when dealing with logistical challenges. Google Maps is one of the most commonly used digital tools to streamline this process.
This blog post will guide you through ten handy online applications that simplify your event-organizing tasks and catapult your productivity levels. Gear up as we embark on this virtual tour of top-notch event-planning tools!
Top 10 Digital Tools for Event Planning and Mapping
Discover the top 10 digital tools for event planning and mapping, including Google Maps, Slideshare, Facebook Events, YouTube, Eventbrite, Hopin, Cvent, Social Tables, XING Events (formerly Amiando), and The Event Manager Blog.
Google Maps
An all-in-one solution, Google Maps is a cornerstone of the event planning industry. This versatile tool offers sophisticated navigation features and geospatial search capabilities, making it easy for planners and attendees to seamlessly locate venues or events.
Its customization options are a bonus, allowing users to personalize maps according to their needs. The platform's robust imagery technology includes satellite imagery and street maps – useful tools when scouting potential venues from afar.
Not limited to web applications, Google Maps extends its utility across multiple platforms, subject to the limitations of the Google Maps Platform. Credible and easy to use, this digital asset is one of the top 10 GIS software for 2023, making it popular and essential to successful event planning and mapping.
Slideshare
SlideShare serves as a powerful tool for event planning and mapping. Bridging the gap between information sharing and engagement makes sharing detailed presentations about your upcoming event easy.
From conceptual diagrams to keynote speeches, these visual aids effortlessly convey valuable details about your event. More than just a one-way communication channel, the platform fosters an active community where users can comment, share and discuss content related to your meetings.
Using SlideShare means unparalleled visibility – its feature-rich interface allows you to effectively publicize proceedings while ensuring understanding among potential attendees.
Conveniently, this digital tool works perfectly with our free event planning template. 
Facebook Events
Facebook Events is an essential digital tool for event planning and mapping, especially given the platform's widespread popularity. It allows you to create a dedicated page for your event, invite guests, provide updates, and facilitate discussions in real-time.
More than just a promotional tool, it's invaluable for managing RSVPs and gauging initial public interest. Best of all, it can efficiently reach millions of users worldwide at no cost – one of the best free event planning templates available today.
Whether hosting webinars or community meetings, Facebook Events helps streamline engagement effectively, making event management a breeze while saving significant amounts of time associated with manual processes.
YouTube
YouTube is a powerhouse for sharing video content, and event planners and mapping professionals can tap into its immense potential. Whether you want to create promotional videos for your events, provide tutorials on how to use digital planning and mapping tools or showcase your past projects, YouTube has you covered.
With its massive audience reach and easy-to-use interface, YouTube is a valuable resource for learning and inspiration in the event planning and mapping industry. Harness the power of video by using the YouTube platform to connect with a wider audience and make your mark in the industry.
Eventbrite
Eventbrite is a leading platform for event planning and ticketing, offering a range of digital tools to help make your event a success. With Eventbrite, you can easily create and manage events, sell tickets online, and track attendance.
Their user-friendly interface makes it simple to set up event pages with all the necessary details like date, time, and location, and even add custom branding. Eventbrite offers features like email marketing integration and social media promotion to help you reach more people and maximize ticket sales.
Whether you're planning a small local gathering or a large conference, Eventbrite has the tools you need to ensure your event runs smoothly from start to finish.
Hopin
Hopin is a compelling event technology platform that connects people worldwide, creating virtual communities for seamless event management. In fact, it has been hailed as one of the best event management platforms in 2023.
With Hopin, you can streamline your event planning process and create a truly engaging experience for your attendees. This automated event app offers greater efficiency, organization, and reach for your events.
Plus, with its networking and interactive features, Hopin makes it easier than ever to facilitate connections and interactions among attendees. Whether you're hosting a small business meeting or a nonprofit fundraiser, Hopin's mapping and management tools will impress you and your attendees.
Cvent
Cvent Event Management is a widely recognized platform that offers a comprehensive set of event planning and management tools. With an easy-to-use interface, Cvent allows organizers to seamlessly manage various aspects of their events.
One notable feature is the meeting cost estimator tool, which helps budget for various elements of an event. In addition, Cvent's digital mapping capabilities allow organizers to showcase images and projects related to their events.
Whether you're organizing a small business meeting or a large-scale conference, Cvent offers robust features and an easy sign-up system for efficient event management. As one of the top players in the industry, Cvent stands out for its affordability and positive user reviews.
Social Tables
Social Table is a powerful digital tool that revolutionizes event planning by simplifying the creation of seating arrangements and floor plans. With its easy-to-use interface, event organizers can simply drag and drop tables, chairs, and other elements to create their ideal layout.
This tool also allows for seamless collaboration among team members, making sharing and editing plans in real-time easy. In addition, Social Tables offers features such as attendee management, check-in systems, and event registration integration to streamline the entire planning process.
Its versatility makes it ideal for all events, from weddings to corporate conferences. Whether you're an experienced planner or just starting out, Social Tables is an essential tool to help make your event a success.
XING Events (Formerly Amiando)
XING Events, formerly known as Amiando, is a powerful event management solution that allows companies of all sizes to easily plan and manage their events. With XING Events, you can create custom tickets, registration confirmations, and emails tailored to your event's needs.
It offers amazing features like attendee generation and management tools to streamline the entire event planning process. And with XING Events' customizable event website and ticket shop, you can effectively promote your event and increase attendance.
As Europe's leading online event registration tool, XING Events has become a popular alternative for companies seeking reliable and efficient event management software.
The Event Manager Blog
The Event Manager Blog is a go-to resource for event planners looking for valuable insights and information. With a comprehensive list of the top 10 digital tools for event planning and mapping, this blog offers a variety of options to streamline processes and improve events.
These digital tools are essential for saving time, improving efficiency, and creating engaging experiences for attendees. In addition, event planners can also find free event planning software options with detailed pros, cons, pricing, and user reviews.
Benefits and Features of Event Planning Tools
Event planning tools offer several benefits and features that can revolutionize how you plan and manage events. First, these tools dramatically increase productivity by automating manual tasks and streamlining processes.
With features such as budgeting, invitation management, guest list organization, and registration systems, event planners can save time and effort while ensuring smooth operations.
In addition to increasing efficiency, event planning tools foster collaboration and communication among team members. These tools provide a centralized platform for sharing information, assigning tasks, and tracking progress, improving coordination among various stakeholders.
Keeping all event-related data in one place-including documents, contacts, and schedules-organizers can easily stay organized.
In addition, event planning tools offer advanced reporting capabilities that allow planners to track various metrics and effectively analyze data points. This valuable insight provides valuable feedback for evaluating the success of past events and making informed decisions for future events.
In addition, event planning tools are cloud-based and support remote working from anywhere with Internet access, giving planners the flexibility to work on the go or collaborate with team members in different locations.
How to Choose the Right Digital Tools for Event Planning
Choosing the right digital tools for event planning is critical to ensuring a successful and seamless experience for both organizers and attendees. With so many options available, it can be overwhelming to determine which tools will best meet your specific event needs.
To get started, carefully evaluate the requirements of your event. Consider factors such as the type of event (in-person or virtual), size and scope, and any unique logistical considerations.
This initial assessment will help you narrow your choices.
Next, consider the features and benefits of different digital tools. Look for platforms that provide essential functions such as registration management, ticketing, attendee tracking, analytics, and communication capabilities.
Another important consideration is the ease of use. Choose tools that are intuitive and easy to navigate so that everyone involved in planning can use them effectively without extensive training or technical expertise.
Also, consider any additional integration or compatibility requirements with existing systems. Ensuring seamless integration between different tools can save time and minimize potential issues during event execution.
Finally, read reviews from other event planners who have used these digital tools to gain insight into their experiences with the reliability of customer support and the overall performance of each platform.
The Role of Gamification in Event Marketing
Gamification has become a powerful tool in event marketing with its ability to engage attendees and effortlessly achieve event goals. It goes beyond the simple use of technology; it taps into the psychology of human behavior and motivation.
In fact, 93% of marketers have embraced gamification and recognize its potential. By incorporating game elements such as challenges, rewards, and contests, event organizers can create an interactive and immersive experience for attendees.
Gamifying marketing campaigns starts with building a strong community and encouraging social interaction, as this is the key to success. Additionally, considering the latest gamification statistics and trends for 2023 can provide valuable insights when planning event marketing strategies.
Conclusion
Incorporating digital tools into event planning and mapping can greatly improve efficiency and collaboration. From Google Maps for easy navigation to Eventbrite for seamless ticketing, these tools provide a streamlined approach to organizing successful events.
In addition, platforms like Hopin and Cvent also offer comprehensive solutions for managing in-person and virtual events. Whether you are a professional event planner or simply organizing a get-together with friends, these top ten digital tools will ensure your plans run smoothly.