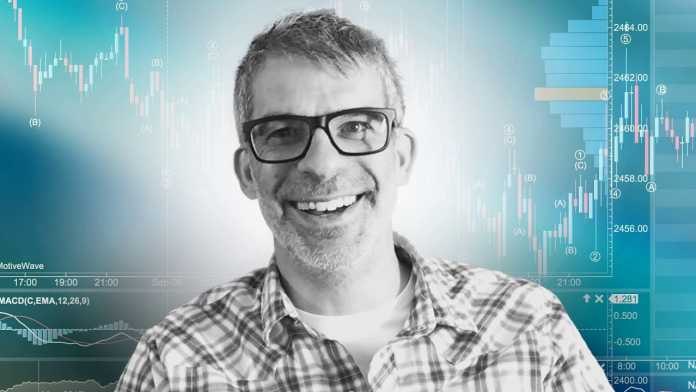 Making money is a big ambition for all of us because it is the main element needed to realize one's dreams and goals. Working 9 to 5, we invest time and effort continually to finally be able to pay for a home, car and secure your retirement and save enough cash to pay for children's college tuition. Yet, no matter what kind of effort you put in, the goals seem to be just beyond your reach.
In a world, where there are no magical lamps with trapped genies who can grant your wishes, it seems impossible to secure such cash goals.
Very few dare to step into the world of Forex Trading to reach this state of financial security. It is a market where you feel you need the magical touch to truly gain returns in solid gold. Investing in the wrong stock or currency could mean the loss of your original capital.
Also Read:- Importance of Risk Management in Forex Trading
However, the trading guru Rob Booker is an internet based speaker and author, who claims in his podcasts that with his advice, books, personal coaching and trading robots, you can earn $50, $100, $250 and up to $1000 per week, or in one day even.
There are membership plans that give you access to all the features of the service with access to some six trading robots and new ones added to the repertoire of robots regularly. The robot's job is to scour the market looking for the best trades.
Two of the most famous ones are well-known in the trading world; the Finch and the Kingfisher. The Finch has the capacity to trade in five different currencies and it is designed to look for divergence in a five minute time frame. While, the Kingfisher robot scrutinizes and evaluates the overbought and oversold sales in the market with the Relative Strength Index. The Rob Booker Report will provide several useful points about trading which every would benefit from.
Now, the man behind these services has been in Forex trading since 2006. Rob Booker may have started off as a Mormon Bishop but he emerged as a trading expert a couple of years ago, then he set himself up as a mentor for traders. Rob Booker started offering training courses to people who wanted to step into the world of trading and started creating trade software.
Training courses feature expertise build up in the Trifecta system and using robots to maximize their efficiency. Lifetime memberships and the Premium Trading Exotics Club give access to all the above features and message boards to get advice from the man himself. However, it is only in the personal coaching or mentorship programs that people get individualized advice.
Transparency and authenticity are the goals that Rob Booker asserts are the prerequisite of any service and following that code, even the algorithms behind the trading robots are available online to members. Truth and trust is the second set of values that he feels are necessary for effectiveness in the family and the family of traders created through his website. This is the part where Booker has struggled.
Reviews of his service veer on two extremes. At one end, there are those who denounce him as a sham and a swindler whose promises never materialize. On the other hand, there are those who feel that after taking his course, they've become quite successful as traders.
On Forex Reviews, one commentator says, "I really like this guy, he gives it to you straight and knows what he is doing-consistent most of all and very fast customer service." While, an annoyed customer points out on a private trading Forex forum that he "is nothing but a crook that takes your money and then blocks you when you need clarification. This is not the first time he has back-pedaled. A lot of bad trades conveniently disappear from the recommendation section when they go sour."
This is an inevitable situation in the field of trading, where in one deal if you become successful the tip off was a priceless one and if it doesn't work out it creates bad blood. Many trading experts point out that once they've learnt the basics of trading, each individual has to develop their own system that works for them and this is perhaps where the element of the golden touch comes in.
You need to have the judgment and sense to analyze what the data is telling you and then make your call. A second element necessary for making it in the world of trading is personal strength and sheer grit to survive the extreme levels of high profit potential and intense losses.
Overall, Rob Booker comes across as an honest, knowledgeable trader dedicated to his field. To experience and understand the truth of the situation, I tried the Trifecta system course for $27. Life time membership of $1000 gives access to all course and Booker events.
However, the Trifecta system proved to be quite successful but Robert has modified it slightly by creating a model in which all the stops have been removed, so no stops are used. It is a risky proposition in the hands of an amateur or simply because it was used improperly, it can result in losses.
The strategy is to invest small amounts to ensure that in the case of a massive move there is only a small loss. If the deal starts going against you then you attempt to leave the deal in order to ensure that the losses remain minimal.
The system worked well over a period of six months, resulting in consistent gains throughout of 4 to 6 percent. In this specified time period I easily recovered the $27 I had initially invested to take the course.
Rob Booker as a mentor proved to be knowledgeable as a trader. He is a nice and pleasant man who answered all the queries I had forwarded to him. Even if the questions I referred to him could not benefit him personally, as in he could not gain from the trade, he took the time to answer my questions.