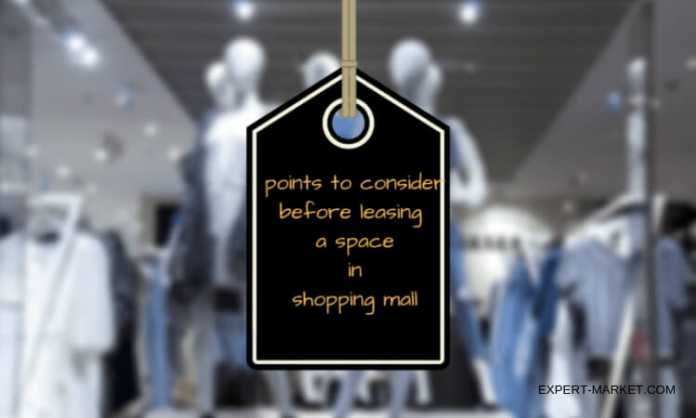 Shopping mall is a great place to start your dream retail store because of regular influx of targeted customers. Shopping malls and multiplexes have become an important lifestyle in urban areas. You can see many shopping malls and multiplexes in every major city of the country. People prefer to visit shopping malls and multiplexes instead of going to market, where they have to walk a long distance to visit various stores.
When it comes to shopping malls, the scene is different you don't have to walk long distances because you will have all stores located in a single building that is what we call shopping mall. This is the main reason why it comes out as a great place for your store. In this article we will discuss about various factors you have to consider before investing for space in shopping malls.
Business doing people are showing much interest in opening their store in shopping malls where they can expect huge crowd visiting their stores. More visits mean more sales, more sales means more profit! This is one important advantage of opening a shop in a shopping mall.
Even people are started investing money in opening multi-screen theaters those are called as multiplexes. Those who come for shopping malls for shopping will also like to watch a movie. This is what prompted shopping mall owners to start multi-screen theater. Where people can shop and watch a movie under a single roof.
Shopping malls help a business to grow at a rapid phase. They give us a chance to grow by meeting the huge demand. This is the reason it is a good idea to get a shop space in a shopping mall. It is not at all a big deal to get a space in a shopping mall. To get space in a shopping mall or multiplex you need to contact shopping mall owner.
Before you get a shop in shopping mall you should pay attention to below points to make your investment profitable.
Location Matters a Lot
This is one primary thing you must consider before to get space in shopping malls. If you have limited budget and cannot afford huge investment opening a shop in a shopping mall located in a posh location then you must stop thinking to get space. Until and unless you have enough money and have the confidence to attract customers to make profits you should not dare to open a store here. Make sure that you will get regular targeted customers in that locality.
Rent
Generally shopping malls are expensive you have to shell out a huge amount of money in the form of rent for the space you get. Rents are decided and fixed based on the floor on which the store is located.
Generally rent for stores in ground floor is higher and most expensive. Ground floor is generally leased to known international and national level retailers. The rent for a store in first floor is about 20-25% lesser than the ground floor and the second floor is about 30% lesser than the first.
You should be able to increase sales of your products your business going to offer in order to make profits. If you make good profits then it would be easy for you to pay any rent. You have to shell out thousands even though you wish to take small space in a shopping mall.
Space
Depending upon your seed money you need to take space. Since a square foot space comes with a big price tag you should think about the exact space you need. Getting space more than your business need can put you in the loss as you have to pay a lot of amount in the form of rent. If you still want to pay any rent then make sure you going to increase sales of your business.
Flow
You should also consider thinking about the number of visitors who visit shopping mall on a daily basis. Understanding your shoppers, their behaviours, their pain areas, and their preferences may help you build personalised and targeted campaigns that please your customers and increase sales. Placewise collects shopping mall analytics from digital interactions between you, your retail tenants, and your customers in a secure manner.
If you find fewer visitors then it is meaningless to take a space in such shopping mall. It is wise to take space in a shopping mall which is located at places like IT parks, offices and other public places. People from IT industries always prefer to shop at shopping malls. This would be an advantage for you.
Interiors
You should set up your shop space in the shopping mall with beautiful interiors and exteriors with good lighting. This is one business strategy to pull customers to your shop. You should also offer everything at a discounted price. Giving a good percentage of discount on the products you sell can do well to your business.
Always take a space for your shop in a shopping mall or multiplex by keeping the public inflow into a shopping mall. This matters a lot, otherwise your idea to take shop space in shopping malls and multiplexes would give you nothing in return. You will just keep shelling lot of money just by paying rent. Always make sure you take shop space with a new business strategy to attract more and more customers to survive competition in the market.