Your roof is one of the most important elements of your home. Aside from affecting the aesthetics of your home and the value of your property, your roof also influences the safety of the entire household. Your family will be prone to theft and dangers from harsh weather conditions if your home has a damaged roof.
It'll be challenging for you and your family to enjoy your property without a fully functioning roof, which is why it's important for you to determine the common problems on your roof and when you need a roof replacement. This is an important responsibility every homeowner has to accomplish. 
Make sure to call professionals for roof repair services the moment you notice any of these signs: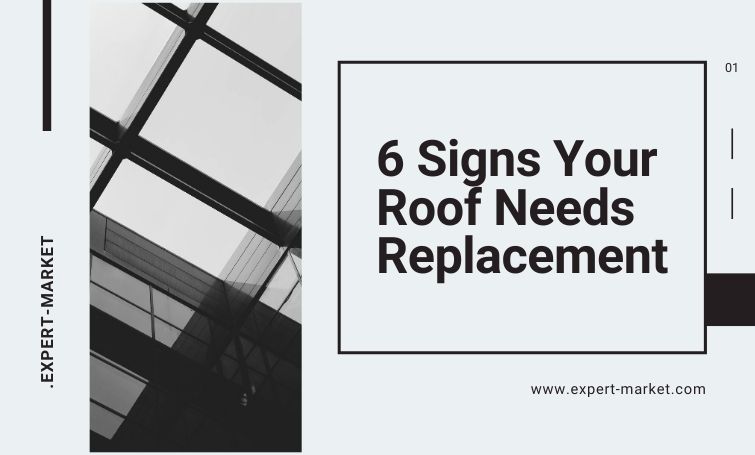 Your Roof Is In Poor Condition

One of the first signs that tell you that your roof already needs replacement is if it's no longer in good condition. In order to determine this, you must first take a close look at the damage to the roof by climbing in it.

If the damage is already too bad, then, it would mean that the roof no longer serves the purpose expected of it. You might also want to check if the damage is caused by animals or by insects that were attracted by the leaking materials. If it's the former, you can try to treat the affected area with a special product and ensure the prevention of any further damages.

If you notice any of the damaged sections, then, you must contact a contractor who can provide roof replacement services right away.


Your Roof Is Leaking

Another sign that your roof may need replacement is when there's a slight leak. This is usually the result of some type of structural failure in the roof, and is actually very easy to spot. You can determine that your roof has a leak by simply looking at your ceiling.

If you find that you have a small hole on the roof, you must take action before it's too late. A leaking roof requires immediate solution because leaving this problem unaddressed can adversely affect the structure of your home and can even cause accidents inside your home. Leaking roofs can cause puddles inside your house that can result in slip and fall accidents.
The Shingles Are Damaged

One of the signs that your roof needs replacement is when the shingles are wearing down faster than they should. If you're noticing that they're not sticking very well anymore and they seem to be falling off by themselves, then, you should definitely replace them with new ones. You may have to replace them with something stronger, or you might have to get a new batch of shingles that fit better.

If your shingles have become weaker or are falling out too often, then, your roof is showing signs of wear and tear. This might be due to improper installation, so it's important that you call a specialist to come and evaluate the severity of damage. They'll take a look at your roof and make recommendations on how to fix it, as well as give you some tips on which type of shingles you should use for your new roof. Roof specialists often work on a commission basis, so you can save a lot of money if you get a professional roofer to come and evaluate your roof.

When it comes to roofing repairs, hiring a roofing company can be the best decision you'll ever make.
There Are Signs Of Rust

Another sign that your roof is starting to deteriorate is seeing the presence of rust. Rust stains on the roof will cause your roof to look more damaged than it actually is. Rust is known to cause a lot of damage and deterioration to roofs, so you should really consider changing your roof right away once signs of it start to appear on yours.

It's can be quite difficult to repair roofs with rust as the damage can be very hard to detect with just your naked eye. Luckily, you can always hire professionals who can easily spot rust and determine whether or not your roof already needs to be replaced.
Your Roof Is Sagging

Seeing that your ceiling is beginning to sag is another sign of a weak roof. This means that the roof is no longer doing what it's meant to do and is beginning to cave in. This is something that will cause more damage than the shingles are able to handle. In worse cases, a sagging roof can cause more damage to your home as it can become an eyesore indoors and even cause inconvenience to the people living in it.

If you notice that the ceiling is starting to sag and is becoming unstable, you may want to call a roof repair company to come out and see what they can do about it. Most companies will use heavy-duty equipment to repair a ceiling that's falling apart. If the ceiling is leaning and falling, you may need to replace the entire roof.
Gutters Are Damaged

Another way you can tell that your roof needs replacement is when your gutters are showing signs of wear.

In order to determine when your gutters are showing signs of wear, check out your roof regularly for signs of dirt and debris that could be sitting on the roof. If you see any clumps of soil or dirt in your gutters, you need to take action as fast as you can. Check for signs of water infiltration at the base of your eaves, as well as any crack or dent in your roofing system.

Research Is Key
With the number of contractors offering roof repair services today, it's important that you only hire ones who have the necessary experience and training for the job. If this is your first time hiring one, make sure that you do some research to know more about the services they offer. Ask for referrals and read reviews, if necessary. The information you can gather about these contractors will make it easier for you to determine which one to hire.