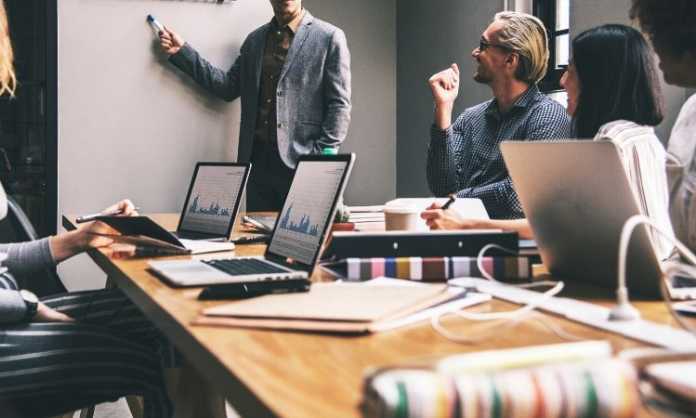 Whether you're a new business or a well-established one, using a PEO service to streamline personnel and HR issues can make your business run that much smoother and keep you on track for continued growth.
PEO companies are numerous and offer many great benefits, but sifting through the endless lists and ads can be exhausting. Here, you'll find a list of the five best PEO companies for business owners in 2020. These companies all bear a standard of excellence and customer service and can take your business from unorganized to streamlined.
If you're looking for a more extensive list, try the 10 best peo companies from retire at 21.
1. ADP Total Source
ADP is a favorite among businesses all over the country and provides payroll and other PEO services for excellent prices. ADP is perhaps the largest of the PEO/Payroll companies in the US, with thousands of happy customers and businesses. In fact, you've likely worked for a company that used ADP as its payroll service.
ADP offers an easy to use employee portal, so your employees can easily access all of their payroll, tax, and employer information from one place.
ADP offers different services for businesses with 1-50 employees up to over 1,000 employees. Whatever your PEO needs are, ADP Total Source can help. Payroll, recruitment, benefits, HR services, outsourcing, and time and attendance are a worry no longer when you use ADP.
Sign up today and join the thousands that have already improved their business with this amazing PEO service.
2. Acadia HR
Acadia has been around for almost three decades, serving businesses of all sizes and varieties, across numerous industries. The company will work as your HR team, so there's no need to spend money on HR staff and their salaries. With affordable pricing, Acadia has made an impact on both smaller and medium-sized businesses alike. 
Acadia will handle your payroll and keep you in compliance with governmental regulations, as well as set up benefits administration to ensure your team is getting the best benefits possible. You'll also get new-hire management to streamline the onboarding process and easily welcome new members to the team.
The company will also handle your company policies and procedures, so you can get back to growing your business and spend less time ironing out HR problems.
3. Engage PEO
Engage PEO has a ten-employee minimum requirement, so startups or very small businesses cannot utilize its services; however, for businesses with 10 employees or more, it's an excellent resource for all of your PEO needs. The company has been named one of the country's fastest-growing businesses for four years running, and for good reason.
With a focus on high-quality services and a customer-service oriented team, the company has made an impact on hundreds of small businesses across the country.
Payroll, benefits, worker's comp, compliance, and HR services are all offered by Engage. Don't leave things like payroll to inexperienced services; use Engage for a service that's clearly different from its counterparts.
4. Paychex
Paychex focuses mostly on providing great payroll services and is one of the most popular payroll services in the industry. The company has branched into other HR solutions as well, but payroll is where it shines.
You'll stay in compliance with taxation and other regulations, and direct deposit is delivered to each employee without a hitch. The interface is simple and easy to use, and you'll be able to access all of your HR services from it. 
The company also offers some extra services, like startup services, business insurance, and more. With a great payroll service, extras, and a reputation for customer service and excellence, Paychex is your go-to whether you're a small or medium-sized business.
5. Total Team Solutions
TTS can provide your company with payroll administration, worker's compensation services, benefits, HR, risk management, and PEO services. With so many services available, the company really does offer a total team solution for your business. Whatever your HR needs may be, the service can provide them with ease and efficiency, at prices that won't put your business underwater. 
The company has been around since 1988, and since then, has established the reputation for excellence that sets it apart from others. If your business is considering payroll or PEO services, TTS will offer a consultation so you can decide which services will work the best for your individual needs.
Conclusion
PEO companies are abundant today, with nearly 1,000 conducting business in all 50 states. That being said, it's important to remember what makes for a good PEO service, including customer service, quality of services offered, as well as the diversity of those services.
Each of these five offers many high-quality services as well as a customer-oriented support team to help you choose the right one.