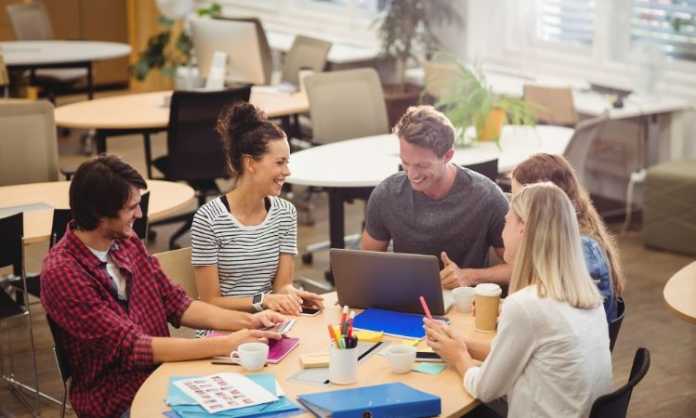 Coworking spaces are office spaces shared by different individual professionals, freelancers, and teams. In Coworking spaces, the desks can be hired on an hourly, weekly, and monthly basis, depending upon the requirements of the individual.
In the last few years, the popularity of Coworking spaces has been skyrocketing due to the flexibility, scalability, and versatility it offers to the individual professionals and teams who cannot afford to rent an office just yet. Coworking is extremely popular in major cities, such as Hong Kong, where larger offices are often more expensive.
GoFloaters offers Cafe Coworking in several cities in India. Here, people can not only work comfortably in a modern and lush spaces but also order food and revitalizing coffee. Working in such a relaxed yet structured environment would help you stay focused and creative.
While giving your career a professional edge, it requires to scale up. Here are the few benefits of a Coworking space:
Productivity
Working at home, regardless of how much you try, is going to affect your productivity. There are so many distractions at home, especially if you are living with your family and kids that it becomes way too difficult to concentrate on work. Working in a Coworking space is motivating as you see others working hard to achieve their goals.
Staying always motivated and finding new ways to enhance your productivity is what working with other professionals in a Coworking space helps you with.
Networking
Networking is essential for business, irrespective of its size. Coworking spaces foster a sense of professional community that encourages networking among professionals. Not only do Coworking spaces like GoFloaters help you meet other professionals from the same or related industries, but you might also find potential clients here. With so many professionals from different areas working under one roof, it becomes easier to find talent without engaging in extensive search online. The designer or content writer you've been looking for might just be working right beside you.
Cost-efficient
Renting an office, especially when you are starting, can be quite expensive and beyond your budget. However, renting a desk in a Coworking space would help you enjoy all the benefits of an office without having to pay a fortune for it. Working in a Coworking space is the perfect way to kick-start your freelancing career or a startup.
Coworking spaces also have conference rooms, meeting rooms, playrooms, cafeteria, and more, which can provide your business with that much needed professional outlook it needs to grow and expand. Paying for these facilities on an as-need basis is better than renting a large office. 
Sense of Community
Individual professionals and freelancers may envy full-time employees as they work alone and don't have colleagues to share their feelings during highs and lows. Coworking spaces foster a sense of community among the individuals working there. As time passes, you don't only network with other professionals out there, but also make friends. It gives you a sense of belonging and a community that helps you thrive during challenging times.
Every professional needs a bit of motivation and a push from time to time, and the Coworking spaces of today offer the right environment for modern professionals to thrive and grow.
Gone are the days when you had to wait for years to afford an office. Coworking spaces would help you get started with working in an office environment right away. Represent yourself as a true professional in front of clients and invite them to Coworking spaces to hold meetings in conference rooms. Coworking space gives your freelancing career, startup, or business the boost it needs to reach the next level.