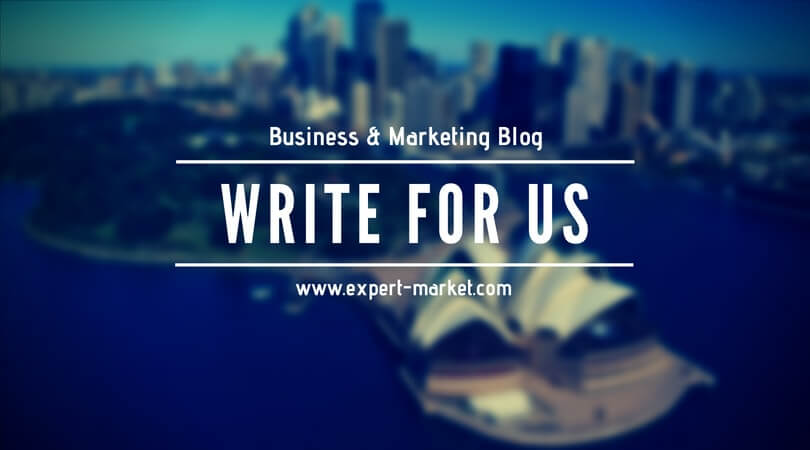 Sumit Guest Post On Expert-Market
BUSINESS BLOG
Expert Market is a small business and marketing blog that focuses on providing relevant and interesting information to entrepreneurs and for people interested in general business, finance, business tips and technology. We write comprehensive content and publish it on our portal related to topics that interest entrepreneurs from various niches. If you are interested in writing for us then here are few things you need to ponder.
Points to Ponder Before you Start:
It is necessary for you to be clear what we accept as content at Expert-Market. Anything that doesn't come close to our expectation won't be entertained. So go through it before you start writing a guest post.
Read this entire guest post submission guidelines before you send your content for submission. Anything that contradicts our guidelines will be rejected.
Usually within 12 hours you will get response from our team on your submission. We don't respond to contents that are rejected.
Whatever you submit should be fresh and original. No copy content will be accepted. This also includes spinning content as well.
The content you send for approval should be fresh and make sure that we have not yet covered it.
We seriously don't entertain writers who are not punctual. Ensure that you stick to deadline.
If you have got this, let's move forward to other conditions for writing for us.
Why Write for Us?
We are a business blog that is read by 150 thousand people on monthly basis while 5000 people read our content daily. We give opportunity to our writers to grow along with us. We don't gag ideas just because we don't approve of it. Anything that is appealing and provides a different perspective is acceptable to us. We are liberal and generous in dealing with our writers. Our view base will also help you to promote yourself in different ways.
Where to Submit Guest Post?
Submit your post as asked in format mentioned to us through Email at expertmarketblog@gmail.com (don't forget to add Cc to info@expert-market.com)
Ensure that whatever you have written subscribes to our requirements and guidelines given below. You will get a reply from us within 12 hours of the submission. Any changes if required will be communicated to you through email.
We at Expert-Market are a growing platform with contents that interests people from business and startup background. There is no defined way of writing for us but whatever your write for us should serve its purpose. We invite you to submit your proposals along with the content. We would be more than happy to get connected with you and get benefit with your excellent writings.
Who are we looking for?
We accept content writers from all sorts of backgrounds who can provide relevant content. You should be able to write contents that are relevant for a businessman or an entrepreneur. The second thing we are looking for is how you connect to our readers. This is something important for us because we value our readers and don't want to disappoint them with vague content.
Our writers should be excellent when it comes to grammar and narration. They should also be expert in comprehensive writing where they can explain their readers exactly what they want. They should also know how to write search engine friendly contents and how to use specific keywords.
What exactly we are looking for?
We write everything that serves the interest of our esteemed readers. Our content focuses on entrepreneurs and people interested in startups, finance and small businesses. We don't have any restriction of word count but we expect our writers to submit guest post not less than 800 words and not more than 2000 words.
We give the required space to our writers to expand the article if required but the content should be written in a way that it serves the purpose without having any fillers. Our standards are high and we don't accept content that loses its purpose and becomes boring while reading. It should stick to its purpose and should not deviate from the core.
What we expect in short is here:
Topic: The topic you choose should be relevant to our readers and just not be general topic on which numerous articles have been written earlier.
Research: It is very important for you to know that we don't accept just general content. We want you to do deep research when it comes to writing content. Do a bit of research before pitching your guest post to us.
Keywords and SEO: It is important that you content should be equipped with necessary keywords and SEO that will ensure that your content gets maximum read.
Comprehensiveness of Content: Your content should be comprehensive to cover a topic. For a particular topic you write, be comprehensive in writing everything in limited words which is essential in giving a true meaning to the topic.
Be Original: Don't plagiarise content as we reject it outright. Don't copy content. Be genuine and generate ideas that are original. Try to give an angle which is never covered before.
Note: We review our old content every year and we might deleted your article or links if we find any issue with the links/content. Also, you article will stay online for at-least 1 year.
Topics that we cover:
You can write for us on various topics such as:
Entrepreneurship
Startups and new startup ideas
Small businesses
Business plans and outlines
Finance topics
Marketing topics
Technology topics
Business advise, tips and success stories
Online marketing or digital marketing tips
Online business ideas and plans
Technology and latest mobile app related news
Blockchain technology and cryptocurrency news
How to guides (Business related)
Any new business opportunity for specific country
WE ARE NOT INTERESTED IN
There are certain types of topics and contents that we have no space for. Before you start with us it is important that you know what we don't want. Here is what we are not interested in:
Click baits: There is no room for topics or contents whose sole motive is to get views. We write content that serves the requirement of our readers. We don't believe in cheap methods of generating views.
Topics in General: We don't accept topics that are in general available for read. Our topics should be original and should offer something interesting for readers. It should not be found in popular websites.
Promotion Posts: We don't accept posts whose only motto is to promote a particular interest. One can add such promotions in a lighter way but not solely with that intention.
Affiliate Links: We also don't publish posts that have affiliate links.
The Content Should be only written for us: Whatever your write should be only for the purpose of publishing at Expert-Market. The content you write must be original and should not be published elsewhere.
Basic Guidelines for Content Submission:
Before you send your sample content to us for approval or write your post for us. You need to know some basic guidelines which you need to follow before you send us your content.
Here are some:
The Content should be Crispy: Whatever your write should definitely be academic but it should also be such that the reader enjoys reading it. It should be crisp in writing so that the reader remains glued to the content.
It should be Comprehensive: Write everything that the reader requires for that particular topic. There should be all perspectives to the content. Make sure your reader understands the topic in deep.
Word Count: A topic that is less than 800 words would not be entertained. A topic that is about 2000 words is acceptable given it should not have filler content but relevant.
Content should be Rich in SEO and has Targeted Keyword: Writing on an online platform requires you to write content that is rich in SEO and has targeted keyword. These two helps a content get top rankings in search results. They also increase the visibility of your content thus increases the view.
Content Originality and Freshness: The content you write for us should be original and not copied. Even your ideas should sound fresh and not just general. Freshness in article means that your article should be written fresh and is not outdated.
Be Relevant: Don't deviate your content from what is asked. Stick to the core of topic and write everything that concerns the topic.
Methods of Writing:
Bring something interesting to your guest post while submitting. Like if there is something that should be explained in detail then the content should have screenshots, diagrams, figures and stats to ensure that the reader gets every aspect of the content.
Don't hesitate to explain the content in step by step method. Don't just write a long passage which can't be read but write small passages with figures, media and graphs to make your reader understand better. The paragraph your write should be small and it should have bullet points, sub-headings, headings, and points to explain it better.
Write in MS Word
Write in Calibri font of size 12
Title should be of size 14
Title, heading, sub-heading should be in bold
Add bullets, graph, boxes if required
Deadlines for Guest Post Submission:
As asked, you should write your content and submit it on the time asked. Late submissions won't be accepted at any cost. In case of urgent delays, you should inform us accordingly. If your post gets published, you need to be regular in replying to comments for the first 7 days.
You are invited to write for us on various topics covering small business and startup stories. We are excited to learn from your encouraging story. We are one of the leading small business blog that accept guest post on topics mentioned above.
How to Submit Content/Article?
Email us your article in word document (.doc/.docx format) or include it within the body of your email. Email us your article at expertmarketblog@gmail.com (don't forget to add Cc to info@expert-market.com)
We will reply to your email within 12 hours.
Thank You