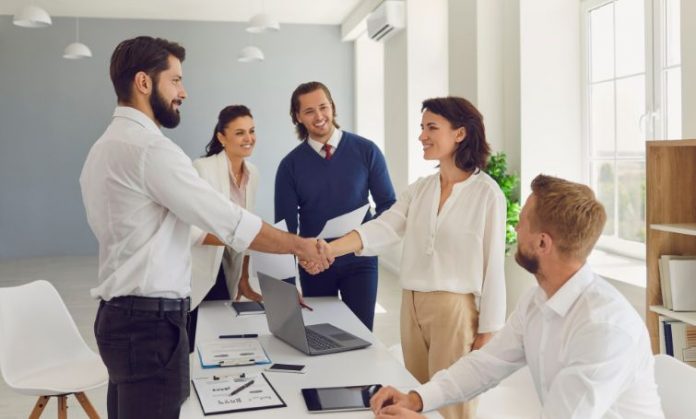 Is your office big enough that you have a couple of full-time employees, but too small for a full-time, in-house HR professional? There are many small businesses out there that may not have the resources to have a full-time HR pro, but that doesn't necessarily mean your business can't engage in HR processes and tasks.
Small businesses can utilize HR in a variety of ways; there are a number of unique options you can explore that will allow you to implement necessary HR management software and safeguard your business at a fraction of the cost of hiring a full-time HR representative. For example, you might think of hiring an external HR consultant to help you when you need it! 
One thing is for certain; if you're a small business, it's important to not overlook HR. In this ever-changing world, you'll need HR support to help you stay up-to-date with regulations, and work practices, as well as to respond effectively to issues that pop-up during day-to-day operations.
Read on to learn everything you need to know about HR for small businesses.
The Benefits of an Effective HR Strategy for Small Businesses
HR is more than dress code policies, conflict management and sick leave. An effective HR strategy for small businesses in summary, aligns your business goals with human capital; it is a plan that outlines the activities needed to exceed targets whilst also curating a healthy workplace environment. In saying this, the most effective HR strategy is one that is uniquely tailored to the desired culture and makeup of your business.
Small businesses that create a thoughtful, actionable HR strategy will:
Maximise their return on investment
Boost productivity
Increase employee retention
Attract better quality talent
Create a more unified, healthy workplace
Before getting into the creation of an HR strategy, it would be prudent to discuss the following points:
What is the company mission?
What are the needs of our employee base?
What local, state or federal employment laws need to be met?
In which areas of the business are our HR-related currently lacking?
What are the long-term goals of the business?
What alterations to resourcing need to be made to get HR processes started?
How an HR Professional Can Help Your Small Business
HR considerations are fundamental to the success of a business, in particular, the growth of a small business. As you begin to scale into a medium-large sized business, having the right foundations in place will make this transition a much smoother one.
Here's some of the areas that an HR professional will work in to help grow your small business and achieve targets.
Ensure compliance with regulation
HR professionals stay up-to-date with all relevant laws and regulations, particularly those related to discrimination, safety, pay and hours. Having an HR consultant by your side will prevent your business from getting into any sort of sticky situation.
Workforce planning
Workforce planning is crucial for a small business with aspirations to grow in size; HR will aid you in the development of a revenue model, budget forecasting, succession planning and more.
Take control of administration tasks
One of the less glamorous aspects of HR, yet still quite crucial, is the regular management of administrative tasks such as payroll, taxes, contracts, benefits and more. Having an HR consultant on your side enables other members of the business to focus on their specialties and make best use of their unique skills.
Recruitment
An HR professional can analyse the needs of the business and position your brand as a company to be seen as one where people would love to work. They create detailed and accurate job descriptions that clearly outline the duties and requirements for the role, as well as source candidates via social media or networking. HR consultants can shortlist candidates and conduct interviews, as well as background and reference checks so that management gets the best filtered through to them.
Training, Development and Onboarding
HR helps small businesses develop and retain a skilled and motivated workforce by conducting onboarding processes, creating and evaluating the success of training programs, delivering training programs and instilling a positive company culture. Ultimately, these efforts improve the performance and productivity of the business.
Alternatives to Hiring an In-House HR Professional
It's very common for small businesses to not have the resources needed to hire a full-time HR professional. Thankfully, there are a number of alternatives available for small businesses to manage HR tasks without hiring a full-time, in-house professional.
Outsource to a specialist HR organisation
Firstly, you can outsource your HR requirements to a specialist HR organisation that accepts outsourced work. These professionals complete services like payroll and compliance for a fee, but on a need-to-do basis, saving you money over time. Given these organisations are HR experts, they're more than able to also help you stay compliant with complex legislative and regulatory requirements.
Hire an HR Consultant on a Project by Project Basis
Another alternative is to hire an HR consultant to provide specific HR advice and support on a project by project basis. This specialised agreement allows small businesses to access skilled expertise without the added cost of a full-time employee. For example, a small consulting firm would hire a consultant to review its onboarding module or conduct training on anti-discrimination laws.
Assign HR Responsibilities to an Existing Employee
Depending on the needs of your business, you may also be able to assign HR responsibilities to an existing employee, preferably one that already conducts administrative related tasks. For example, a small business may assign their office manager to handle tasks like maintaining employee records and processing payroll. Going down this route is handy for tasks such as these, but will not be the best route to take if you're looking to create a fully-fledged HR strategy, especially as it is unlikely that a regular employee will be aware of legislative and regulatory requirements.
Use HR Software
Many companies offer automated HR software to manage the payroll, compliance, and benefits of employees. These can be more cost-effective than hiring an employee or consultant. For example, a small business may use HR software to manage employee scheduling, time-off requests, and compliance with state and federal wage and hour laws. Again, this route would not allow you to implement an in-depth HR strategy, which, as we've discussed, can benefit the growth of your small business in a big way.
Human Resources for a Small Business
So, there you have it! It's clear that having an effective HR strategy, carried out by an HR expert can benefit a small business in a big, big way. Although your company might not be in the position to hire a full-time, in-house HR professional to oversee all these tasks, there are a number of alternatives available to make use of, allowing you to stay compliant, improve company culture and attract and retain top talent.
With the right approach, small businesses can effectively manage HR tasks at a cost that is affordable to their position.