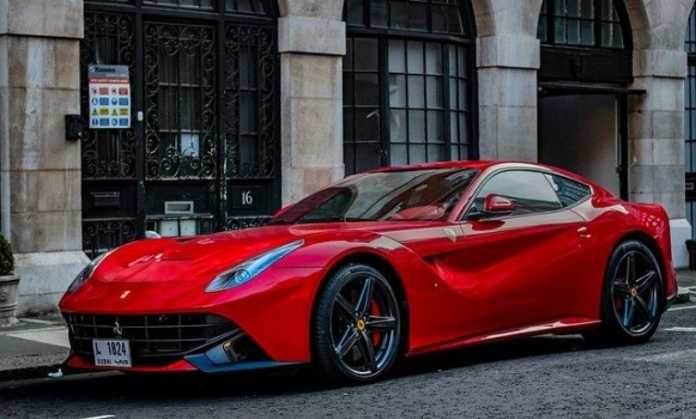 The Ferrari Pininfarina Sergio
Priced at an eye-watering $3 million, the first of our top 10 most expensive cars is the incredibly unusual looking Ferrari Pininfarina Sergio. This car was designed by Sergio Pininfarina, the son of Ferrari's founder, Battista "Pinin" Farina.
At first, it is difficult for most observers to tell which end is the front of this Autobot-esque limited edition automobile. But this doesn't make this Transformer-like car any less cool.
The Limited Edition Bugatti Veyron by Mansory Vivere
Any big car enthusiast will tell you all about Mansory, a German firm that mods already existing luxury cars extensively. Many Mansory's are among the most expensive cars in the world. So, not only are these cars already incredibly expensive, Mansory makes them even more expensive!
To create Mansory's one-of-a-kind Bugatti Veyron, the brand picked a Grand Sport Vitesse Roadster, for which they created a unique upgraded interior cabin, brand new LED lights throughout, and even installed an accumulation spoiler package, amongst other things.
But at $3.4 million, whoever buys this light-up party wagon will have to be careful with it!
The W Motors Lykan Hypersport 
Hailing from the middle east, this is the region's only supercar. And what a super car it is – its 750 horsepower 3.7L engine, with a top speed of 242mph, has the ability to go from 0 to 60 mph in just 2.8 seconds!
All this super power doesn't come cheap, however – the Hypersport retails at $3.4 million also!
The Lamborghini Sian 
Selling for $3.6 million, named after a Bolognese word that means "lightning" or "flash", the 63 Lamborghini Sians were soon all gone in a flash, almost immediately after they were manufactured! In fact, even when Lamborghini made 19 more Sians especially for 2020 – a different soft-top version this time – these expensive sports cars were all gone in a flash too!
The Lamborghini Veneno
This one named (slightly more conventionally for Lamborghini) after a famous fighting bull, the Lamborghini Veneno certainly channels the spirit of a charging bull with its 740 horsepower V12 6.5L engine that can sprint from 0 to 60 mph in only 2.9 seconds!
Not only this – with a top speed of 221 mph, the Veneno, definitely, lives up to its name.
Did you know that the Lamborghini Veneno actually also heavily borrows from another favourite Lamborghini car? This car is the Aventador, from which the Veneno gets its engine.
Priced at a cool $4.5 million, this is also the car built to commemorate Lamborghini's 50th anniversary!
Thr Koenigsegg CCXR Trevita
This is another car on this list with a really cool name. The Koenigsegg CCXR Trevita's carbon fibre body is said to sparkle dazzlingly as soon as sunlight hits it, as though the car's body conceals millions of diamonds – the word Trevita translates to "three whites" from Swedish.
With the ability to reach at least 254 mph, the Trevita's V8 engine has 1,018 horsepower.
Floyd Mayweather is said to have purchased a Trevita for $4.8 million.
The Mercedes-Benz Maybach Exelero 
Manufactured and designed by a car firm named Stola, in conjunction with the always evolving company DaimlerChrysler, the purpose of creating this Italian Batmobile was to test and show off Goodyear's new Carat Exelero tyre range.
The business Fulda was the one to commission the Exelero. But, the car's final design was actually formulated by a team of four students from the Pforzheim University of Applied Sciences. Of course, this is a car that just has to reach 217 mph to truly test Goodyear's new tyres out.
The Mercedes-Benz Maybach Exelero retails for $8 million.
The Bugatti Centodieci  
Regarded as a super-rich person's version of a bargain, at $8.9 million, the Centodieci translates to 110, and is heavily based on an older model that shares this name – the 1987 EB110.
The 1987 EB110 was widely adored for its ability to travel over 500 miles with its 20 mpg tank.
But, today's Centodieci beats 1987's for acceleration, with its superior ability to go from 0 to 124 mph in only 6.1 seconds.
The Rolls-Royce Sweptail 
A vehicle that's truly one of a kind, the Rolls-Royce Sweptail was once described as "the automotive equivalent of Haute couture" by the director of design at Rolls-Royce Motor Cars, Giles Taylor.
But the Sweptail was actually commissioned by a superyacht and aircraft specialist, who was inspired by the coach building of the 1920s and 30s.
Put together in 2017, the Sweptail cost an eye-watering $12.8 million! At that time, it was the most expensive car that had ever been produced! However, the Sweptail was then quickly surpassed by the Bugatti la Voiture Noire, the car that we're just about to discuss next.
The Bugatti La Voiture Noire
Bugatti says that "The Black Car" was inspired by their old Type 57 SC Atlantic, a car that "reflects the marque's pioneering spirit, passion for perfection and the desire to continually redefine its limits". Only four Type 57 SC Atlantics were ever made, and one of these cars has been missing since World War Two.
It is this car that Bugatti wanted to pay homage to with La Voiture Noire.But over two years after the sale of the car was made – at $18.68 million – the Bugatti La Voiture Noire still hasn't completed its production! When the car is done, though, its 1,500 horsepower engine will enable it to race at speeds of up to 261 mph!Achim Anschiedt, the design director at Bugatti says, "We produced a true one-off, a single unit car that we call automotive haute couture. It's not just a car anymore, it's really more like a piece of art in line with the highly exclusive fashion and luxury brands in France."
Priceless or not, it's still important to get a good deal on your car's insurance, whatever you drive, especially these exorbitantly expensive cars. But did you know that the average price of car insurance can vary greatly throughout Canada? Check out this post to find out much more about this phenomenon and why it occurs.