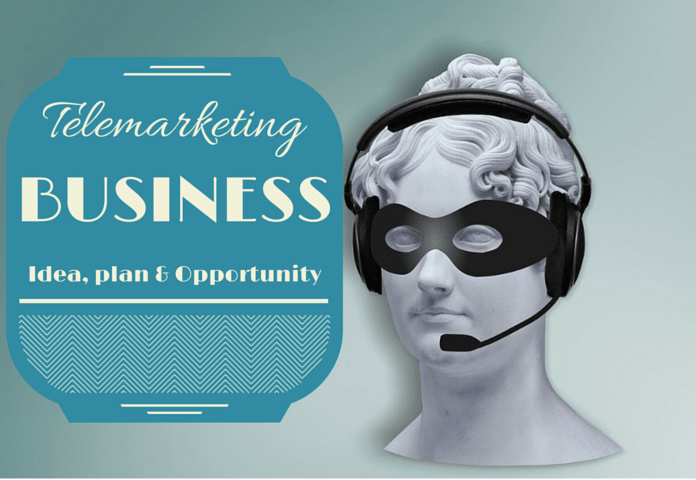 Telemarketing is a form of direct marketing which involves talking to customers about your products through phone calls. Telemarketing helps to build good relationships with customers who help you doing better business in the market. With the help of telemarketing, you can build customer database which generates loyal customers in long run, this helps to increase sales of your products in the market. If you be in constant touch with such customers you can retain valuable customers. Telemarketing also helps us to generate new customers for your services that you are offering.
Inbound Telemarketing
There are two types of telemarketing business opportunities, it can be either inbound or outbound telemarketing. Inbound telemarketing is all about handling incoming telephone calls of targeted customers and this is the simplest form of telemarketing business if you follow basic business plan. Representatives who are working in inbound telemarketing firm normally do not need as much training and experience as compared to outbound representatives because in inbound telemarketing, the customer has already shown an interest by calling in.
Outbound Telemarketing
Outbound telemarketing is directly aimed at the end consumer. It is all about calling a targeted customers to generate leads. For example, a home repair business may call people in its community to search for potential customers or their service users. Representatives working in this outbound telemarketing business generally require more training, experience and product knowledge as compared to inbound telemarketing. This is tough as compared to inbound telemarketing but it has some huge potential if you started this with effective business plan.
Starting telemarketing business can help us to gain a good reputation in the marketing by marketing your product or someone else product through phone calls in an intelligent manner. If you wish to jump into this telemarketing business then you should follow effective telemarketing business plan. Below are few important points which will help you in understanding and setting up this business.
Get Experience
Before getting into this business, you need to get some experince which will help you in determing the difficulties in this business. Work for some big telemarketing firms for 6 months and understand the challenges in this business idea. Real world experience will help you to overcome the challenges in this business. This business is not about getting a office space and hiring some direct callers, but this is all about creating a potential database of customers and doing regular follow up with them and then convert them into real customer for your service or prodiuct.
Research
Research the market and find the answers to the questions like, can i sell my service through telemarketing? what are the success rate of telemarketing for my product or services? how to do effective telemarketing? etc.
Select Office Location
This matter a lot for your employees, you need to select the ideal location for your employees and make sure that it is well connected and easy to reach. You should also make sure that you are going to start a big telemarketing business or as a small startup. If you are ready to invest huge money then you need to select a location which can meet your criteria. If it is a startup, then it is good that you invest less amount of money. You can keep investing more money as your business grows.
 Audience
You should also under who can be your potential customers for your service. Mostly, multinational companies outsource their telemarketing jobs to big telemarketing firms. In this business you are going to sell someone's else product through telemarketing. You should be able to understand who can be your good customer and who can buy your products in large quantity. You should also have the ability to understand who are most likely to buy your product. Without this knowledge, you cannot jump into this telemarketing business.
Legal Formalities
You need to ensure that your lists comply with privacy and electronic communication act, otherwise you will be sued. You should complete all legal formalities pertaining to this telemarketing business. By completing all legal formalities to this business, you can be able to do this telemarketing business successfully.
Customers
Instead of calling everyone, you should call targeted customers who are likely to buy the services or product which you are selling, this will save a lot of money and time. This will also increase sales of your product or services you offer. Since customers are important to your business you need to be very polite and humble. You may sometimes call a customer who may give you hard time. No matter how rude he talks you should never reply them harsh.
Salaries
You should plan how much amount of money you need to pay salaries of your employees. You should also offer them incentives; this will make them work harder. When employees work harder then you are doing effective telemarketing business.
Pre-defined Templates
You should have pre-defined templates that can help talking to any customer. These templates help you to respond to queries related to customers effectively. This saves a lot of time and for you and your company.
Facilities
You need to provide all kinds of facilities to employees so that they can work better for your company. You should be able to provide basic facilities like tea, coffee, snacks if possible food. By providing all these you can retain best employees who can do better business for you.
Experts
You should hire telemarketing executives, accountant, and professionals who can give you good tips and ideas that increase the output of the business. They should help you with latest telemarketing techniques that help your business to withstand any competition in the market. These experts alert customers about new products, offers, service changes and other details on a regular basis.
Meetings
conducting regular meeting with employees and talking about various hurdles they are facing and giving them an apt solution for their problems they are facing gives them the ability to perform well.
If you follow above points you can successfully lead your telemarketing business with good profits.