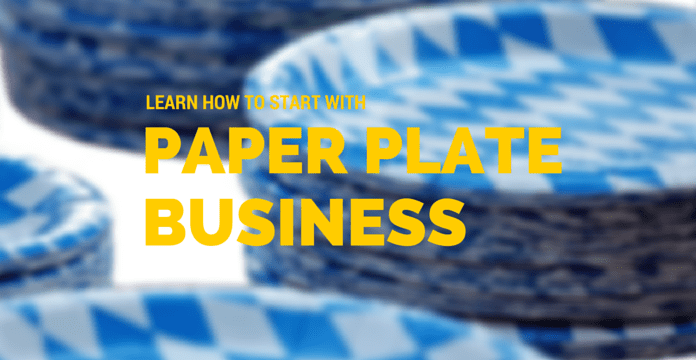 In the realm of small-scale entrepreneurship, the paper plate making business in India has emerged as a lucrative opportunity. This narrative delves into the inspiring story of Prasad, who transformed this idea into a successful business reality. His journey is not just a tale of business acumen but also a guide for aspiring entrepreneurs, particularly highlighting the paper plate business profit margin.
This article, infused with Prasad's insights, aims to guide aspiring entrepreneurs on how to start a paper plate making business and understand the paper plate business profit margin.
The Initial Steps
Raw Material and Investment
Prasad began with an understanding of the foundational needs of this business. He calculated that the monthly requirement of raw materials would cost around 5,00,000 INR, comprising essential items like bottom reel, printed PE paper, and packing material. He then invested in automatic machinery, which cost about 8,50,000 INR, and dyes priced at 1,50,000 INR. This initial investment was critical in establishing his paper plate making business.
The Manufacturing Process Unveiled
Prasad shares his insights into the manufacturing process, broken down into simple steps for easy understanding:
Material Preparation: He started by selecting the right dies for different shapes and sizes, ensuring the paper and polythene sheets were pre-cut to the desired dimensions.
Die Setup and Heating: Each selected die was mounted on the press and heated to the appropriate temperature.
Layering and Molding: Carefully placing the paper and polythene layers between the die parts, Prasad applied pressure to mold the product into its shape.
Extraction and Resetting: Post-molding, each product was removed, and the machine was reset for the next batch.
Finishing Touches: The bulk of products underwent trimming and detailing to achieve the final desired appearance.
Packing and Dispatch: The final step involved packaging the plates in sets and dispatching them for sale.
Prasad's unit boasted a production capacity of 30,000 to 40,000 plates per day, running two shifts for about 300 days annually.
Crafting the Blueprint of Success
The Roadmap to Success
In-Depth Market Analysis: Prasad began by researching the demand for paper plates in various markets.
Strategic Financial Planning: He allocated a budget for raw materials, machinery, and operational expenses.
Machinery Acquisition: Investing in efficient machinery was a priority for long-term business sustainability.
Securing Quality Raw Materials: Establishing reliable supplier relationships was crucial for consistent quality.
Location and Setup: Prasad chose an accessible location for his unit, adhering to all business regulations.
Streamlining Production: He focused on efficient manufacturing processes for optimal output.
Ensuring Quality Standards: Quality control was paramount to maintain product standards.
Effective Marketing Strategies: Prasad developed innovative marketing tactics to reach potential clients.
Building a Distribution Network: A robust distribution network ensured timely delivery of products.
Financial Oversight: Careful monitoring of expenses and revenues helped understand the paper plate business profit margin.
Marketing Paper Plate Business
How to market paper plate business
Develop a Business Plan: Before starting your paper plate business, create a plan that outlines your goals, products, services, budget and target market. It should also estimate your projected expenses and revenue.
Design a Logo and Website: Create a logo and website to market your paper plate business. Make sure your logo is memorable and get the word out by giving away free promotional items with your logo.
Networking: Attend local networking events to meet potential customers. Make sure you have plenty of business cards and literature ready to hand out.
Targeted Advertising: Identify your target market and decide the best way to reach out to it. This might include advertising in specialized publications, distributing fliers and tap into social media accounts.
Bulk Selling: Start out by offering lower priced items such as paper plates for bulk packages. Reach out to caterers, wedding planners and supermarkets who may need supplies.
Promotions: Offer discounts and promotions to promote your paper plates. You can also create contests to encourage people to buy more plates.
Follow up: Make sure you follow up with customers after they make a purchase. Send thank you emails or special offers to reward them for their loyalty.
Prospects and Scope of Paper Plate Business
The Untapped Potential
Understanding the prospects and scope of the paper plate business is crucial. In India, the increasing demand for eco-friendly and convenient tableware drives the market. Factors contributing to this growth include:
Environmental Awareness: Shift towards sustainable products.
Urbanization and Lifestyle Changes: Greater need for disposable tableware in urban areas.
Catering to Diverse Markets: From local eateries to large events, the demand spans a wide range.
Prasad's venture thrived by tapping into these market dynamics. He emphasizes that the paper plate business profit margin is attractive due to low production costs and high demand.
Conclusion
Prasad's success in the paper plate making business exemplifies the vast potential in this sector. His story is an inspiration, demonstrating how strategic planning, understanding the market, and commitment can lead to a prosperous business. The paper plate making business in India, with its growing demand and environmental appeal, offers a fertile ground for entrepreneurs, and Prasad's journey is a testament to this lucrative opportunity.