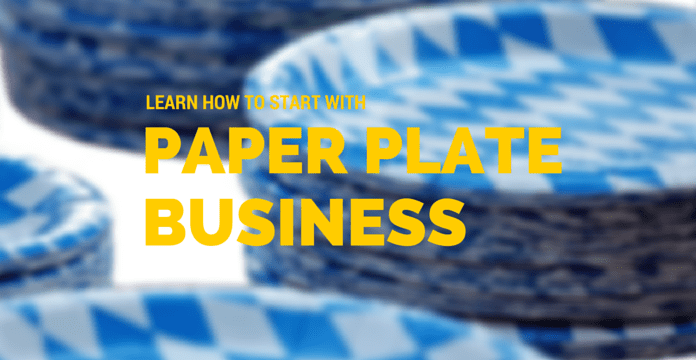 Learn how to start paper plate business with this easy business plan sample
Why should you consider investing in paper plate business?
Paper plates are accessories that are used for serving food items at a regular basis. Be it a picnic or a finger food party, the role of paper plates can never be denied. Since these items are lightweight and can be easily disposed off, they are very convenient to be carried to any place for serving food items. These plates are available in a wide range of designs and sizes to meet the needs and preferences of consumers and an occasion or a picnic or an outdoor party in India is really unthinkable without the paper plates.
Seen in this perspective, starting your own paper plate business is a great way of earning an extra income every month. The banning of manufacturing and use of plastic plates all across the globe offers a good opportunity for producing and selling eco-friendly paper plates. Owing to the high market demand coupled with the low supply of paper products create an ideal market to launch your own business and earn high profits.
Before you start your own paper plate making business, it is important to take a look at the market and its needs in relation with the international market. There are huge demands of paper-made products all across the world owing to the environmental concerns which have prompted the local governing authorities to ban the plastic plates and cups.
Also Read: Waste Paper Recycling Business Opportunity & Plan
Etch out a business plan
If you are really serious about taking your business idea to the next level and turn into a reality, you are required to carve out a sophisticated and thoroughly researched plan. A huge proportion of the early business success hangs upon creating a well-documented business plan that can be either created by you or you may choose to hire a professional to for developing the plan. When you have a professional to help you, all your desires and guesswork would be developed into a solid plan with all your business goals in mind. This plan would also help in convincing potential investors that your business ideas and concepts are both plausible and timely.
Select your targeted consumer base
Your first task is to figure out the demand for paper-made plates in the area where you choose to serve. You should be well aware of the customer segments that require paper plates for running their business and some of the major consumer groups can be caterers who are hired to serve food in events and weddings, eateries, food stalls alongside the roads, etc.
A ballpark estimate of the demand for paper-made plates in these areas should then be made. For instance, you may figure out the number of caterers in your area, the number of wedding parties and other parties served by them, the total number of paper plates required for the purpose. Demands from other sectors should also be calculated in the same manner.
Your next task is to determine the current supply of the commodity within the same geographical boundary and also the demand supply gap. In order to figure out your manufacturing capacity of your business, it is imperative for you to find out what percentage of this demand supply gap do you wish to allocate for.
Setting up the factory- registrations & licensing needed
Location selection:
Since you are going to establish a factory and not a retail counter for selling paper plates, location would not be of prime significance. It is better to set up the factory in the outskirts of the city or in particular industrial zones where price of land is not as high as that of a posh urban locale. But make sure that your manufacturing unit is in close vicinity to your intended consumers, supplier of raw materials and possess quality infrastructure in terms of power supplies and connectivity. All you would need is a covered area of approximately 500 square meters with uninterrupted power connectivity to run all the electrical machines. The location should be such that you can effortlessly attract, source and eventually recruit workers for your plant.
How much initial investment is required:
In simple terms you should be willing to invest an overhead cost of 10,00,000 INR at least for purchasing the equipment as well as raw materials. By investing about 10,00,000 INR, you may expect to manufacture more and more paper plates with a presumed sales turnover crossing 66,00,000. It is better to be registered as a private limited business entity due to the high sales turnover.
Business Funding:
It will also help you to obtain loans from banks or financial institutions, scale-up much faster and incorporate other partners in the near future. Besides procuring the company registration, you would also have to apply for VAT registration with the governing authorities in order to sell your manufactured products.
If you are willing to apply for loans, then you shall have to go through the available schemes and options. Generally, a term loan of 10,00,000 INR along with a working capital worth 15,00,000 INR is needed for setting up of the paper plate making business. You can borrow a sum of up to 10,00,000 INR under the MUDRA Loan Scheme of Indian Government where several banks and financial setups across the country would lend the sum without any collateral.
Hiring staff and purchasing the equipment
There are three stages involved in the process of making paper plates:-
The first stage takes care of carving out the design and pattern of the plate and the encircling area is tapered in the second stage while in the third and final stage, the paper plate is pre-heated and the sides are rimmed and curled to make the process complete.
The manufacturing process of paper plates is not at all labour-intense and you would be able to run the entire factory with the help of one production manager, one skilled labourer and one unskilled labourer. It is crucial to estimate the manpower on both managerial and administrative role, needed on the basis of the capacity of the plant.
Raw materials:
Coming to the supplies of raw material, a paper plate business would require raw items worth 4,00,000 INR each month in the form of bottom reel, printed PE paper and packing material. There are numerous leading manufacturers of automatic machinery of paper plates across the country and you can surely get something to meet your requirements within your budget. Normally the cost of such equipment is about 8,50,000 INR and dyes worth 1,50,000 INR are required for setting up your business.
You will have to look for reputed suppliers who can fetch you the raw materials in lead time and extend the credit term if required and you should also have to negotiate better pricing with the supplier by promising timely payment. Make sure that the raw materials are of top notch quality so that you don't have to compromise with the quality of your manufactured products.
Paper plate manufacturing process:
The process of manufacturing paper plates is not quite complicated as you can make plates of varying shapes and sizes with the help of specific die. The paper along with the polythene sheets need to be previously cut for proper sizing and you may even purchase these materials pre-cut as per your requirements. The particular die has to be mounted on the press and the die is then heated to the required temperature. Both the layers of paper as well as polythene sheets are placed properly in between the respective die parts and application of pressure helps the product to take its required shape. The product ultimately formed is removed for loading another set. Also, the machine is an ordinary press equipment with two platforms: one fixed and one moving plunger that works through hydraulic mechanism.
Afterwards, the bulk of manufactured products are collected and the edges are trimmed and rippled to give it the desired shape and appearance. Then they are packed in a set and dispatched for delivery. The general production capacity of a regular paper plate manufacturing unit is 30,000 to 40,000 in a day per each press on two shift for about 300 days in a year.
Marketing your business
How to market paper plate business
Develop a Business Plan: Before starting your paper plate business, create a plan that outlines your goals, products, services, budget and target market. It should also estimate your projected expenses and revenue.
Design a Logo and Website: Create a logo and website to market your paper plate business. Make sure your logo is memorable and get the word out by giving away free promotional items with your logo.
Networking: Attend local networking events to meet potential customers. Make sure you have plenty of business cards and literature ready to hand out.
Targeted Advertising: Identify your target market and decide the best way to reach out to it. This might include advertising in specialized publications, distributing fliers and tap into social media accounts.
Bulk Selling: Start out by offering lower priced items such as paper plates for bulk packages. Reach out to caterers, wedding planners and supermarkets who may need supplies.
Promotions: Offer discounts and promotions to promote your paper plates. You can also create contests to encourage people to buy more plates.
Follow up: Make sure you follow up with customers after they make a purchase. Send thank you emails or special offers to reward them for their loyalty.
Prospects and scope of paper plate business
Paper-made plates are gaining in prominence all over the globe as a viable means of becoming more environment friendly and reducing exposure to food borne disease and infections. Paper plate demands are mainly originating from IT concerns, educational institutes, industrial canteens, food canteens, roadside café and eateries, coffee shop, fast food centres, super markets and event organisers.
Since paper plates are an item of daily use and have a splurge in demands, selling them off and obtaining high profit margin would not be any problem in India. With the aid of well-established market, very high demand and supply forces, the prices of the paper plates can be easily ascertained and sold off to the reputed dealers or traders in bulk or even end consumers through multiple channels.
The increase in demand, high employability, recycling of waste paper, production of paper plates of varying designs and sizes are the strengths of the paper industry and as a result, this industry is having huge potential of growth which would lead to socio-economic development, huge demands, good output recyclability, innovative creations of new items and emergence of fresh ancillary industry like packaging and transportation.
Threats of the paper plate production industry
The paper industry of India itself has its own set of problems that may cast an impact upon the ancillary industries like paper plates manufacturing units. The alterations in economic and technological environment along with the regulatory framework have affected the industry to a great extent. The availability of raw materials, power, water, straw, bagasse, straw, waste paper and cellulose raw materials has an innate drawback of limited access to the suitable technology that can convert these raw stuff into high grade pulp.
Plus, paper industry itself is very water intense and producing paper items without the input of water is practically unthinkable. Off late, the most coveted raw materials for the industry is depleting at a fast rate and has already started giving alarming signals at some areas across the country. Moreover, paper industry is one of those 20 highly polluting industries in the country and as a result, the water of numerous rivers is being polluted owing to the ancillary industries of paper. Along with all these problems, paper plates industry is also affected with energy shortage like power and coal and the industry is highly energy intensive where the fuel and power comprise of 25 percent.
Seen from all these perspectives, and the corporate civic behavior that's prompting people to "Save Paper, Save Tree", the future of paper industry is in doubt owing to the already witnessed efforts of searching for feasible alternatives.