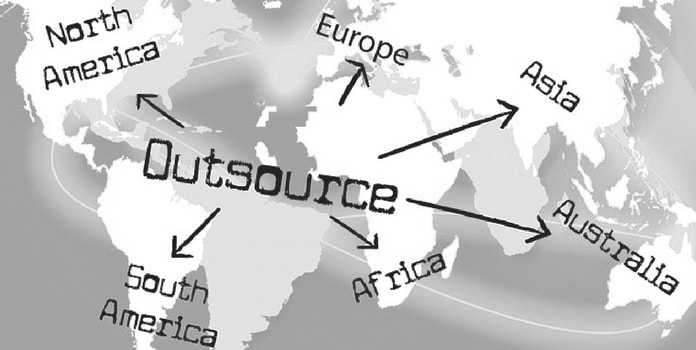 Earlier the small-scale entrepreneurs used to regard the outsourcing technology as expensive and only for the big businesses. But with time and technology improvements, outsourcing is accessible by the medium and the small-scale businesses as well. The impact of the outsourcing tool is huge on the small businesses than it has on the large-scale firms. It is helping the small industry to grow, change its structure and become more powerful in every aspect of the businesses and products and finances as well.
Why business starts outsourcing?
Running a business is not a cakewalk after all and the requirement of skilled and qualified and experienced employees are always there whether it is a small or a huge business entity. But the problem which the small-scale industry faces is with the recruitment of the potential candidates at a reasonable remuneration. For example, it is difficult for a small scale company to employ a bunch of engineers for its IT needs but the need has to be fulfilled and thus outsourcing play a great role here. If you are outsourcing your IT work to an IT company, you have to pay a monthly charge to them which would be definitely lower than the cumulative salaries of the employees you would have hired instead.
Moreover, whether it is a small scale business or big, the requirement of the finance department, IT department, sales are required but being a small-scale entrepreneur, you might not have the budget to hire an individual team of employees for these different departments. Moreover, if you are hiring someone on direct payroll then you have to pay other expenses as well like insurance premiums etc. but if you outsource your work to some other company who specifically deals in either of the departments, you neither have to worry about the work nor of the extra expenses.
Market Analysis
If you study the market as a whole, you can find every country outsources a part of their business to some other nation at present time. Businesses in the west prefer outsourcing work to the east because of cheap labor and thus China and India are two of the most popular region to get most of the outsourced work. It is a general belief that USA or UK outsource work to other developing countries because of the lower rates but they also provide outsourcing services. Though UK or European market has the most amount of work to outsource as indicated by global outsourcing figures, Middle East is on the second number followed by Africa and then America. Since these countries outsource their work to the Asian countries; the revenue from the later is much lower as we are on the receiving end.
In last one decade the market grew from 80.5 billion USD per year of revenue from outsourcing work to 104.6 billion USD in 2014 but then it dropped consecutively in 2015 and 2016 and the last year's revenue was US$ 76.9 billion. There is a further drop as after the election of Donald Trump in the USA, there is a sudden decrease of outsourcing work from the USA to the Asian countries as per the rules made by this new president to reserve the work for Americans. But the overall market is still open to accepting new business entities that are willing to provide outsourcing services and that takes us to the next part how to start an outsourcing business.
Steps involved in starting an outsourcing business
Before starting any business, you need to understand the steps that you have to follow to properly build the business.
#1. The first step is always researching the market scenario. You need to analyze the market requirement that is which services are much in demand and that you can offer in your outsourcing businesses venture. You need to see whether it is more related to the soft skills or the market is demanding more outsourcing for manufacturing businesses.
You have to understand your home market as well as the country you are targeting to receive the assignments from. Both the markets will determine the future of your business.
If your country is rich in unskilled labor which you can hire at a cheap rate and provide manufacturing or product based services to another nation but the country you are targeting for receiving work requires human resource with soft skills then you cannot proceed with your plan. So, you need to analyze both the markets and then start digging deeper.
#2. The next thing you need to decide is which service you would provide and whether you want to stick to one kind of services like financial services or you want to deal with different types of services like technology, finance, banking, education etc. Being a small scale business entity, it would be better for you if you provide niche based services.
#3. Build a financial model for your business including all the capital expenditures and the revenue expenditures you need to incur at the beginning to start the business. Prepare the model taking estimates according to the market rates like market wages, remuneration, expenses etc.
If you are thinking of taking a loan from a bank or any other financial institute, then this financial model will be your key to success and thus you need to prepare it wisely and with a smart approach. Don't inflate your earnings estimates as that might get you in trouble.
#4. Marketing is important in any form of business whether you sell services or products. Since you are starting an outsourcing business, you need to market or showcase your services to the international clients as well as the domestic one. So, you have to prepare such a marketing plan which would be appealing to both the market whether it is international or national.
The marketing plan should include how you are different from your peers as there is a huge level of competition in this market that you are trying to invade.
#5. Finally, you need to decide about the charges you are going to ask for your services from your clients. In the beginning, try to charge on an hourly basis as that would be beneficial for long-term If the projects are for short term then try to charge a fixed price so that you can make a profit out of it. Don't try to charge as MNCs as their financial models are different and work across various verticals.
Human resource is the best capital one can invest and for small businesses, it is of utmost importance. The world is full of productive people and that is why businesses are hiring people from across the different parts of the countries and world at reasonable rates and you can take this opportunity to build your own outsourcing business providing the service in which you are efficient. It can be hectic at the beginning but in the long run, it can provide huge benefits and help you earn more profit.
The business entrepreneurs across the globe, the new generation business leaders and the progressive businesses people have one single view and that is outsourcing has a high potential for pacing your business on the more profitable track.