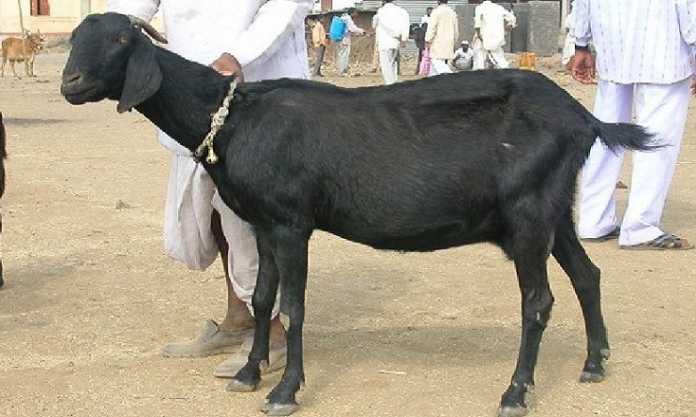 Osmanabadi goat breed is from the Latur and Osmanabad district of Maharashtra. This is the tall animal usually black in color. Osmanabadi goats are well known for there disease resistance capability, their disease resistance as compare to other goat breed is more hence considered as the good breed for commercial goat farm. Also the milk yielding ability and the reproduction is very good in this breed usually they give birth twice year and twins are very common.
Milk yield is about 1-2 litres per day and the lactation period is of three months.
Osmanabadi goats are well adaptive to any region of India and there disease resistant ability enhance there demand in the country by different goat farmer.
Osmanabadi Goat Weight & Other Characteristics:-
They are usually tall animal with an average weight of 33.5 kg (Adult male) and 31.5 kg (Adult Female)
75% of Osmanabadi goats are black in color some are brown,white and spotted colors.
They have medium long ear.
90% of male have horn.
Small udder with small teats.
Water intake is very less as they are desert animal they consume approximately 500 ml of water everyday.
Reproduction in Osmanabadi Goat:-
This Breed is known for its reproduction usually gives birth twice a year.
Mostly gives birth to twins chances of triplets are rare.
Kids are of 2.5 kg at birth and gains approx 12 kgs weight in first 6 months.
Kids must be supplied with their mother's milk at the time of birth and should continue for a month since this milk is full of colostrum which is an essential nutrients for the kids growth.
Osmanabadi Goat Breed Milk Yielding Ability:-
Milk yield ability is good in Osmanabadi breed as it gives an average of 0.5 – 1.5 liters of milk in there lactation period.
Lactation period typically ranges between 3-5 months.
Milk yield is quite sufficient for there kids, hence reduces the kids mortality rate.
Osmanabadi Goat Breed Performance:-
Overall performance of this breed is good and would be prefer for the commercial goat farming. They are quickly adapted to the climatic condition where they are and can adjust themselves as well.
They can be kept under the stall feed and partial stall feed system, this breed does not require any special kind of fodder , they can be given anything like grass, tree leaves and cultivated crop like barsim, bajra, maize etc which reduces the fodder cost of osmanabadi breed.
There meat is rich source of protein and comparatively less fat and cholesterol level in it. Also the leather from Osmanabadi's goat skin is of fine quality and has surplus demand in the market.
This breed is very hardy means its disease resistance ability is ultimate so it is preferred in the commercial goat farms and there feeding cost is also less as they dont need any special fodder for there growth , they can be easily kept under grazing system. Hence overall performance of Osmanabadi breed is quite acceptable.
If you want more information on Osmanabadi goat breed then please ask your question in comments below:-