Sometimes, reaching mass audiences might seem like a battle against low budgets. The reason being that pretty much every platform looking to make a profit off businesses' marketing goals. When businesses get tired of social media and search engine ads eating away their hard-earned money, they usually turn to classified ads websites.
What is a Classified Ads Website?
Classified ads websites are places where people and companies can buy and sell merchandise or services. The term "classified" derives from the fact that the services and products are organized in different categories. Despite many people perceive them as a new approach in the world of digital marketing, roughly half of the internet users were already using these over a decade ago. 
Different from the late 2000s, now we have much more options. The introduction of video classified ads websites set whole new standards of how these sites should look like. If you are interested in how it looks, be sure to visit Askvider, and see what they can offer. But, that doesn't mean that the older ways are not as effective as they used to be. They still are. 
What Makes a Good Classified Ads Website?
Having a proper category structure in your site is a critical issue. All of these need to have a user-friendly layout. Furthermore, they need to be categorized logically and clearly. That way, users will not have a hard time finding the appropriate section.
Plus, the search engine will be able to index the website correctly. In case users don't find what they are looking for, they will leave the site, you can be sure of that. Therefore, making sure that you've included all the essential features is the way to go.
How Can You Promote These Sites?
After a website has been created and is ready to work, thinking about ways it can stay competitive is an absolute must. However, problems can start when we don't reach the expected results. Promoting your classifieds website can be an answer for a majority of your problems. We would like to focus on non-conventional ways you can do that, instead of focusing on paid advertising.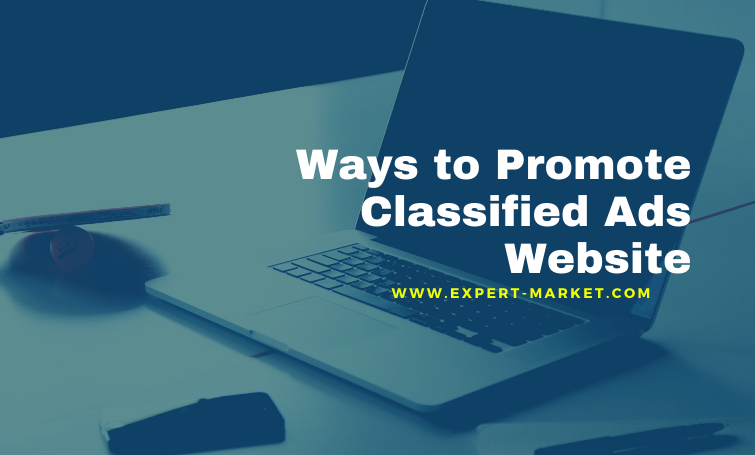 1. Social Media Marketing & Word of Mouth
After the introduction of social media, spreading the word of mouth strategies changed significantly. Not only that, making the most of them is now way easier than it has ever been. There are a lot of powerful tools that can help us to reach targeted users. But, some factors require our attention during the development of these strategies.
Knowing what's are the most popular social media platforms among your targeted audience.
Create attractive content that will motivate visitors to share.
Make it easy for them to share by adding social media like buttons or integrating a social log into your site.
Keep checking who refers to your site, and see who has the biggest impact on the increasing traffic.
2. Exist on Many Platforms
We've mentioned that knowing where you can find potential customers is an absolute must. Therefore, you should create a profile on every platform you can see this possibility. Sure, it will take some time for them to notice you. However, you can expect that this move will have a significant role in improving the site's traffic.
Of course, we don't only talk about social media. At the same time, being present on forums of your niche market is also a good way of promotion. Providing a personal touch to your posts for your potential customers to know who's the person behind the platform will provide you with many long-term benefits.
3. Interaction with Potential Customers
Depending on a targeted niche, you will need to have frequent interaction with your customers. Without a doubt, understanding their needs is essential. There's a story about a classified ads website owner who visited numerous companies around him, informed them about his site, and posted ads from their computers. At some point, the popularity of his site increased significantly.
4. Local Newspapers and TV
Even though having an ad in a local newspaper or on TV might seem like an outdated form of promotion, believe us, it is still one of the most effective ones. If you're lucky enough you can do it without spending any money. Maybe you have some friends who know people in a position to help you, who knows?
In case you do, it is important not to hesitate. You should get in contact with those people and ask for a favor. Just think about your business being mentioned in the morning show on local television and how positive of an effect it can have on your website's traffic. Surely, the possibilities for media promotion are numerous, you just need to find them.
Summary
As you can presume, there are a plethora of ways you can promote classified ads websites besides those we've listed above. It's needless to say that predicting the effectiveness of your approach is nearly impossible. A lot of it depends on the market situation, mainly in terms of competition, and, of course, your ability to take advantage when an opportunity arises.