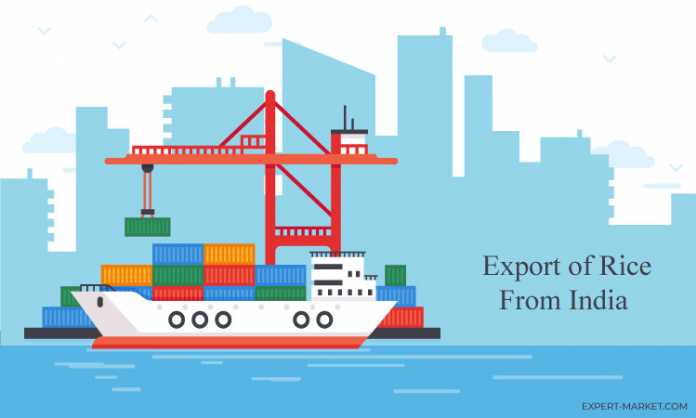 India is popular for its rice cultivation all over the world. As per the statistical analysis, rice production in India covers around 46% of the total food crop production. It is also seen that other countries also have demand the rice from India. Hence, starting a rice export business would be a profitable and feasible business option. In this article you will learn how to export rice from India including steps and procedures
Rice has been a major element in the exports from India all these years. In the year 1999, around 25% of the total agricultural exports in India were rice. Countries like Myanmar, China, Japan, Vietnam etc also are some of the rice production giants. However, the ever-growing demand for the rice across the globe gives a good scope for the rice export business from India.
Main Import Markets Of Rice
India primarily focuses MiddleEast and African countries for exporting its non-basmati rice. The major markets for the basmati rice from India are European countries and USA. Some other major countries who import rice from India are Saudi Arabia, Singapore, Australia, Malaysia, etc
Top 30 Countries Which Are Major Importer Of Basmati Rice From India
| COUNTRY | EXPORT VALUE in Rs. Crore |
| --- | --- |
| Saudi Arabia | 5500 |
| Iran | 3700 |
| United Arab Emirates | 3110 |
| Iraq | 2230 |
| Kuwait | 1300 |
| United Kingdom | 930 |
| United States | 860 |
| Yemen Republc | 730 |
| Oman | 610 |
| Canada | 250 |
| Netherland | 250 |
| Australia | 225 |
| Belgium | 220 |
| Turkey | 200 |
| Mauritius | 190 |
| Jordan | 190 |
| Italy | 180 |
| Bahrain | 170 |
| Israel | 165 |
| Qatar | 160 |
| France | 110 |
| Germany | 100 |
| Malaysia | 95 |
| Syria | 90 |
| South Africa | 80 |
| Singapore | 75 |
| Egypt Arab Republic | 70 |
| Georgia | 65 |
| Reunion | 55 |
| Lebanon | 50 |
As you can see in above table that Saudi Arabia is largest importer of basmati rice from India with total value of INR 5500 crore in year 2016.
In spite of the competition from other countries, India is considered as the second largest country in rice exports. In order to ease and relax the foreign trade, the government of India has framed relaxed EXIM trade policies. Besides, the Indian government has kept a highly competitive price for the exported rice in the importing countries. These are the good signs that boost the export of rice from India.
Process Of Exporting Rice From India
Below steps are essential for starting rice export business in India
Registered A Firm – You need to register a company in order to export from India. Company registeration process is very simple and could take around 20 days. After registration, you have to apply for company PAN. You will get your company PAN in less than 40 days. It is recommended that you add EXPORTERS in your company name because it will make it clear to your international buyer that they are dealing with right company/person. For example – ABC EXPORTERS PVT LTD
GET IEC (Import Export Code) – IEC is a must for export of any product from India. You can apply for IEC online from DGFT website. Read more about documents required for IEC code.
Select Your Target Country –  Select your target country where you will export your rice. It is recommended that you should find your potential buyers in top 30 countries which are listed above.
Find Buyers – It is most important part in any export business that how to find potential buyers in international market? Some tips for finding potential buyers are through contacting your relatives in that country, export trade fairs and expos, through online portal like Alibaba and Indiamart, social media advertising, promotion of your website, etc.
For knowing how to export rice from India, you are supposed to have a good idea about the country to which rice is to be exported. It is always better to find the target market that is less competitive. In other words, you can choose the importing country where there is a huge demand for the rice but less supply from any of the other competitor countries like China, Myanmar, Japan etc.
In order to know how to export rice from India, and before you actually begin with, it is essential to analyze the demand in the target market. The best way is to conduct a market analysis. This can be done through conducting primary or secondary research in the market. You can ask the related people or experienced export companies regarding the scope of different importing countries. In addition, you can have a look at the current news and latest trend in the export market. This can help you to get a fair idea about choosing the most suitable international market ideal for your rice export business. A proper market survey will help you in increasing your export revenue.
Also other steps help you in knowing how to export rice from India. They are listed below:
Know The Procedure
Knowing the complete export procedure is a must before you enter in the export business as a newbie. If you are unaware of the export regulations of our government as well as the import policies and trade regulations of the importing company, it will be a great challenge for you to get a better competitive edge in this highly competitive industry. Hence, learning the exporting industry through business seminars, taking to the expert export companies will help you a lot in this business. You can always try for a local rice business initially and once things settle and you learn to survive in the industry, try focus on an international level.
Also Read – How To Export From India
Know Your Competition
As a beginner and in the process of knowing how to export rice from India, it would of less use when you enter into the highly competitive country, where already many major players are selling rice. Hence, an import market with good demand but less competition would be an ideal choice. You can always try for new business strategies for increasing your rice export level. Some of the marketing strategies can be low pricing, high quality, building trust and reliability, easy procedures, fast delivery etc. These are some of the unique ways to beat the competition in the export market.
Know The Payment Methods And Laws
While doing any transaction, the payment method plays a vital role in the export business. You are dealing with other countries with different currencies and hence, there is a vital need for issuing the letter of credit. You can check the Indian government website to know the payment procedures in exporting rice to different countries.
Transportation
Once you have decided to export rice to a particular country, you need to check the best suited transportation system to that country. Along with this, ensure that all transportation documents are arranged and you meet the sanitary needs of the importing country. If the documents are not proper, it can lead to issues at the other destination. You need an Import export code (IEC Code) for exporting any product from India.
Also Read – How To Get An Import Export Code In India
Exporting Rice From India! Is It A Profitable Business?
Well, every one of you who are planning to start rice-exporting business from India will be eager to know about its profit margin. The profit margin of the rice export business is to a good extent based on the country to which you are exporting and the frequency of exports in a year. For this, you need to choose the best importing country based on their demand. A long lasting relationship with the suppliers of that country can be kept with your quality services and unique marketing techniques.
Keeping aside the environmental issues like natural calamities and low monsoon in India, rice production in India is at a higher rate around 104 million tons (MT). However, the external market fluctuations like changes in the foreign trade regulations in both India and importing countries will be have to studied frequently so as to ensure a smooth export trade without any hassles. Selecting the most demanding country for export and applying the best marketing strategies in the export business can reap more profits from your rice export business.