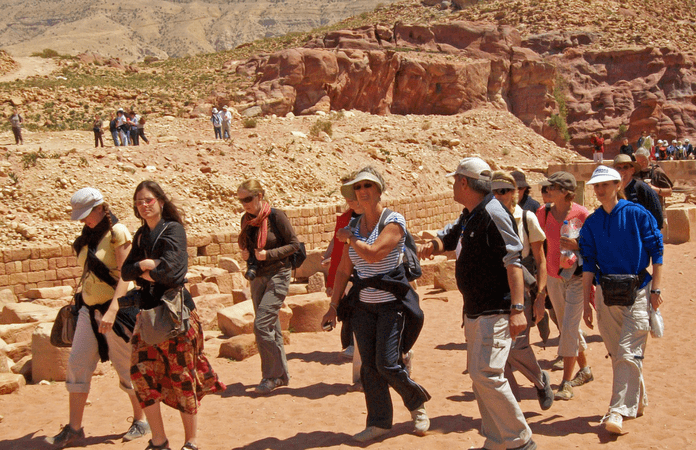 Why should you choose the profession of a tourist guide?
You may have come across several people who repeatedly ask you to quit your present job, run off from your office cubicle and chase your dreams and travel the world. You may have dreamt all through your childhood to own a passport full of visas but circumstances have compelled you to proceed with your higher studies and get hold of a decent job and earn bread for your family.
And today you are hopelessly sitting in your workstation, your dreams and aspirations are no more able to breathe amidst your overflowing workload and you see no hopes of being around the world in near future. But what if your passion to travel doesn't only open up new roads to stunning natural beauty but also earn you handsome income? You are still wondering how is that possible, when you were supposed to finance for the regular needs of your family and there is no way you can afford to travel. The answer to this unavoidable question is you can earn while travelling.
There are several ways of earning when you travel and some of the most popular means include becoming a virtual assistant or even indulge in some travel blogging. But the most rewarding of all is definitely becoming a tour guide as it would give you the opportunity to visit new places, learn their cultures, imbibe their traditions and earn through the process.
Eligibility criteria of an independent tour guide in India
If you are really looking to travel across the country by being a tour guide but don't know where to start with, then the first thing you would require is completing a relevant course. The Government of India conducts an elaborate training program for aspiring tour guides which you are needed to complete in order to be certified and licensed. These licenses are issued by the state as well as central authority of the Department of Tourism after conducting a thorough test.
Also, several states of India has made it mandatory for the tourist guides to be registered with the respective government officials.  The Ministry of Tourism is responsible for providing licenses to the tourist guides operating at regional level and arrange for a Regional Level Guide Training Program or RLGTP. The whole thing is supervised by the Indian Institute of Tourism and Travel Management or IITTM in co-ordination with the Indian Tourism officials  and Regional Directors of the respective area.
The course is held once in every 2 years and encompasses various aspects of tourism in the region and relay fair knowledge about the economic, social and political evolution of the state and country at large. The course is indispensable in terms of fulfilling the requirements, procedures and expectations involved in the job of tour directing, guiding and developing engaging narration and managing the challenges that arise on the way.
Prerequisites of becoming a tour guide in India
When you are aspiring to travel along and help others understand the historical and socio-economical history of different places, it is crucial to be able to speak fluently in your mother tongue (which obviously you can), the regional language that would help you to communicate with the locals, Hindi, which has lost its status of national language though its significance as an official language remains untainted and most importantly, English which has unambiguously the most widely spoken language in India.
Once you have prepared to handle the lingual requirements, you will now have to focus on being a Graduate in any chosen subject from any of the recognized universities in the country or a three-year course in Tourism or Hospitality or a certificate on diploma in Archaeology from any reputed Institute of Archaeology operating under the Archeological Survey of India.
In general, candidates who are fluent in a non-English foreign language along with fulfilling these requirements are given first preference. After you are equipped with these prerequisites and aged over 20, you will have to sit for a test that would evaluate your general knowledge, your awareness of monuments and tourism spots around the country and historical significance of different areas. You are required to score at least 50 percent marks in order to be deemed eligible for the training program.
Duration of the tourism training program
The guide training program conducted by the Government of India spans through 16 weeks and includes both practical and theoretical classes. It is classified into two parts- the first one is a classroom training of 6 weeks which is then followed by a field work of 9 weeks as well as a tour of 1 week. After the successful completion of this training program, the Indian Institute of Tourism and Travel Management would want you to sit for a written examination as well as a viva voce test on behalf of the Tourism Ministry.
Once you have cleared both these evaluations, you will be given a license of working as a Tourist Guide which is issued by the Regional India Tourism Office under Government of India and would be valid for 3 years. You will have to pass a refresher course after every 3 years in order to get your license renewed. It is very important for every newly passed tour guides to undergo the refresher course initially after an interval of 3 years which would be increased to 5 years subsequently.
Needful personal attributes of a successful tour guide
In order to be a successful tour guide in India, you will first have to have an extensive knowledge about the various places of tourist interests along with awareness on the local history, myths and legends surrounding the area, culture, notable artefacts and important routes. You should have a presentable and pleasing personality with matchless communication and oratory skills. And if you are armed with an ability of speaking a foreign language other than English, then it will be regarded as an added advantage.
Plus, you should be a voracious reader, an extensive researcher and keep up to date with the knowledge of various facilities and most importantly, possess a willingness to learn more. As a professional guide, you are required to be polite and friendly, outspoken, helpful, reliable and people should be at ease with you. Possessing leadership qualities, public presentation skills, ability to solve disputes, time management skills, knowledge of safety requirements and risk management are must for you.
You must be curious about your surroundings and have a willingness to imbibe new things. Your intellectual abilities should be in line with your physical fitness, implying that you will have to be physical active  as you may have to perform some activities including picking up the heavy luggage for your clients. Though this is not mandatory, it will produce a positive impression.
Job requirements of a tourist guide
Tour guide is a profession that has always played a vital role in giving as well as gaining knowledge. And therefore reading and learning is required to be perpetual in the field. Your main objective should be providing detailed information in an exciting manner so that people surrounding you are drawn to listen to what you are saying instead of swaying here and there. Be informed about the important monuments and buildings, culture, traditions and heritage so that you can relay them to the tourists of the place.
Your role is that of an educator who can provide unique and significant facts for satisfying the curiosity of the visitors. You could be a tour guide or a tour manager where your role is more responsive and diverse in terms of providing information as well as ensuring that the visitors are staying comfortably and they are safe and healthy while travelling.
If you are willing to start off as a Tour Director, your responsibilities would start right from the receiving your clients from the airport or railway station and you will have to stay with them, take care of their needs and personal preferences which may include special travel requirements or an aged or disabled tourist and attending to their medical needs. You are expected to familiarize your tourists about the local customs, things to do and things to refrain from so that no one can take offense on them. Overall, you are required to make sure that your visitors have a productive and enjoyable trip with loads of happy memories to cherish.
Remuneration scale of a successful tour guide
Your earnings as a successful tour guide is dependent on various factors including your abilities, skills of foreign and regional languages, professionalism, promotion, customer satisfaction and overall experience. It is nearly impossible to predict the remuneration of a tour guide but under normal circumstances you can expect to earn at least about Rs. 1000 in a day. On the basis of tour guides traits you may be gifted with some additional gifts along in the form of tips from gratified travelers. When it is peak time, you can expect to earn about 30 to 50 thousand or even more for 3 to 4 months. It is important to note here that though there are prospects waiting for you to exploit, you should strictly abide by the guidelines implemented by the representatives of Tourist Guide Federation of India along with Indian Association of Tour Operators or Travel Agents Association of India.
Weaknesses underlying the work of a tourist
Your working conditions as a tour guide can greatly vary on the basis of the type of guiding you choose to do. There may be times when you are required to work under the open sky irrespective of the weather conditions while sometimes you will have to work indoors, conveying the importance of a particular monument, artwork, museum or buildings of historical significance. You are expected to shift your work schedule according to the needs and may have to work in the evening and even on weekends.
If you choose to adopt tour guiding as a full time job you may have to leave away from your family for a few days and even for months together. So you will have to be very busy during holiday seasons which is also the time when your family deserves to spend some quality time with you. On a personal level, you may be compelled to eat the same cuisine over and over again even if your taste buds revolts against it.
And the last one though may appear strange, it is true that you will meet a few visitors who would ask some questions, the answers of which is unknown to any reputed guide but unfortunately, this would cast a negative impression on your image. Though the profession is quite lucrative, it has its own set of challenges which you should be eager to overcome.
Prospects and opportunities
Tour guiding is a prestigious and remunerative profession though it is dependent on the peak seasons of tourist influx. There are loads of people all over the world who take this job as a form of seasonal career. Both the public and the private sector offer sufficient job opportunities for aspiring travel guides and in case you are looking for prospects in the public sector, you may check for openings with State Tourist Development Corporations and India Tourism Development Corporation as both the state and union government tourism sector hire tour guides as per requirements.
For a job in the private sector, you can take up part time or full time jobs with notable tour operators, hotels, travel corporations, transport industries and cruise lines. If you are interested, you can even work for destination management enterprises or event managing companies who specialize in sporting, adventure, wildlife tourism or travelling on cruise ships as travel directors.
Plus, if you are imbued with an excellent skill for writing you may even start writing travelogues and work as a successful travel writer or photographer. Another viable option waiting for you is self-employment where you will need sufficient capital for financing in order to own your private travel and tourism enterprise. But this is a serious issue and is only suitable for those who have earned fame and recognition. On the other hand, if you are looking to promote yourself and market your services to the prospective clients, freelancing is an ideal option.
Threats
Regardless of how many times you have heard the phrase "Incredible India", the country is not as incredible for tourists as it ought to be. With good food, remarkable historical monuments, rich culture and traditions spirituality and diversity- India has the right mélange of top ingredients required to make the country a powerhouse for tourism. But the country is standing nowhere compared to other Asian tourist spots such as China, Malaysia, Thailand and South Korea.
Though tourism has seen a certain growth with 6.65 million people visiting in 2012, the rate of growth is quite insufficient particularly when our neighbours including Sri Lanka and Bhutan have secured a growth of 17 percent in the same year. Various factors can be called responsible for this but inadequate accommodation facilities should be placed at the top of the bill. The Chief Representative of the Travel Agents Association of India has already admitted that though there is a huge scope for tourism in the country, there is an accountable shortage of hotel rooms especially for those budget visitors.
The other factors include bad condition of roadways and sometimes no roads at all! Then there is meagre availability of clean toilets and to add to all of it, security concerns and the rising crimes on women are playing an active role to discourage foreign tourists to visit India. The 12th Five Year Plan ranging across 2012 to 2017 is supposed to take a note of all these aspects of the Working Group on Tourism. Till then, tourist guides would be compelled to depend mainly upon the residential visitors and tourists for their living.