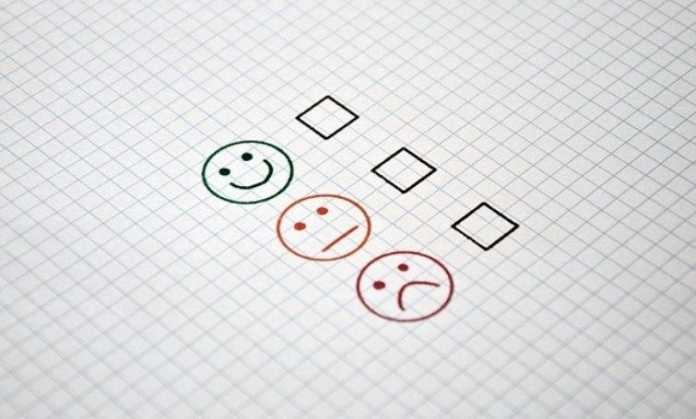 If you are a knower of online life or you are professional in areas like digitalization, customer service, and service design, CRM, business transformation, or customer experience, you are probably very well know the term 'Customer journey'. A customer journey represents a whole experience a customer has while communicating with a business/brand. Customer journey observes the complete interaction roadmap from brand discovery, trust, to purchasing, and beyond.
The focus isn't on transactions – the focus is on how the customer feels after interactions with the business/brand. If you are not known as well as professionals are, you can ask why is the Customer Journey important? On that question, as well as how your customer journey can use it to achieve success in your organization we'll talk in this article.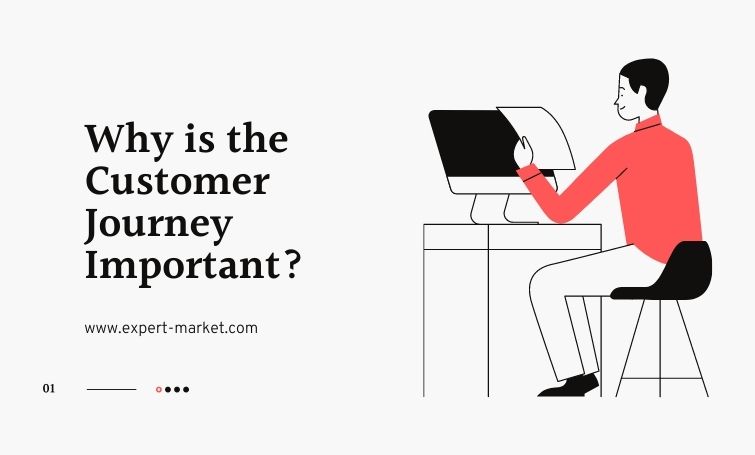 The customer journey is a crucial part of every successful customer experience
A good customer experience became the focus of every company centered on business and expanded, once the market realized that it's extremely profitable. How? It's simple – if you want to get new customers and keep existing ones, you need to succeed with customer experiences. That's why many companies nowadays assert, as one of the most valuable qualities, that they're customer-centric.
But, after every successful customer experience stands the customer journey as a model for understanding customers, their needs and habits, and problem-solving model if they appear on away. Without a customer journey, customer experience can't exist, or it will be poor and useless. How does the customer journey work?
The customer journey map
If you want to create or improve customer experience on your website, you need to start collecting as many true and relevant customer insights about your product/business as you can, and after that, you need to implement those insights to the customer experience. Pretty logic. But, in that pursuit, the customer journey map plays a key role.
A customer journey map is a tool with which you can collect, organize, and apply those insights, as well as explore all possibilities you can implement and find potential problem areas. Once you start understanding what your customers experience when they come to your website and how they feel and think, it will be much easier to see what you can improve and what changes you need to make those experiences better.
A customer journey map gives you a comprehensive guide for making decisions and their implementation. A customer journey map looks like an aerial view of intertwined subway lines and it visualizes and explains customer's life events before, during, and after the use of certain websites' services. On the left side, there are the first customer activities, while on the right side are the last ones. Every station represents one customer activity – for example, there are points such as searching for a product/service, figuring out what's relevant, waiting for the answer, impression of a website and its performances, etc. All activity points are connected and all customer needs are widely described.
What are the benefits of the customer journey map and when you can use it?
As we said earlier, a customer journey map gives you and your team a comprehensive guide to your customer habits, as well as helps you to improve customer experience. It has many uses, but there are some most common:
Insights – as one of the most important points, insights help you to collect all important information and get an overview of how your customers see your product or service. You can see what works well, and what doesn't work so you can bring actions to improve those poor parts of the experience.
It helps you to prioritize the efforts – a customer journey map is a jumping-off place for prioritizing your efforts. You can clearly see where lays the biggest challenges and where you have the biggest possibilities for expanding and improving your service or product.
It's a map for innovation possibilities – using a customer journey map you can see where are the phases or situations where you can better fulfill the customer needs. You can see all possibilities where you can apply innovation and improve customer experience. For example, if customers are displeased because they need to wait for your website to load, you can use this information to improve your website by changing the hosting package or hosting provider to accommodate your website. Hostinger has the best offers for all kinds of websites – you can get what you need for a reasonable price, so check the reviews. If you see that customers are unhappy because they have issues to navigate your website, you can make changes to make that journey easier. Use all resources of the customer journey map to improve customers, but your experience too.
Organizational improvement – you can use a customer journey map to see how you can better organize yourself and your team to improve customer experience and get the desired goals.
Benefits of using a customer journey map
A customer journey map helps you to radically change your focus to improve all parts of the customer experience.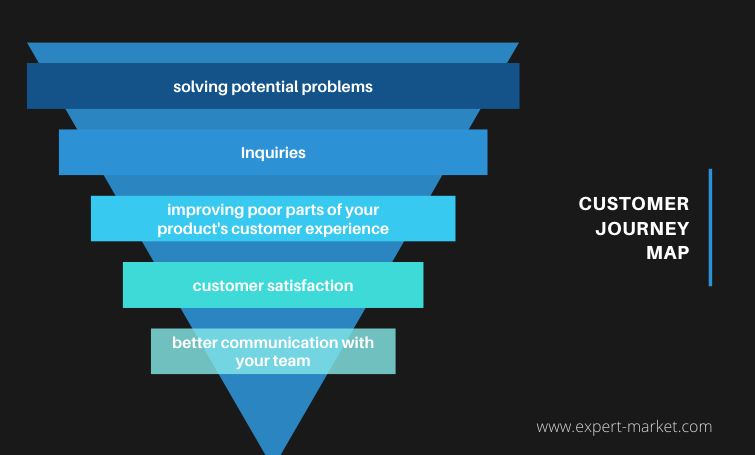 Recognizing and solving problems – you can see everything your customer is going through, so you can put all your efforts into solving potential problems instead of dealing with the consequences later. We must agree that prevention is better than dealing with the consequences.
You have insight into the reality of your customer – a customer journey map allows you to feel like a customer and see your service with their eyes. The map can be your compass for improving poor parts of your product's customer experience by feeling and seeing what your customers see.
Uniting all organizational parts under one goal – to improve customer experience requires working for a whole team as one big organism: if you want one part to work better, you surely need to improve other connected parts. You'll have better communication with your team, and your team will work better with more useful information the customer journey map will give.
Final words
Customer journey isn't something that is reserved for big companies or services – it's the necessity of every business that wants to improve itself and to keep old and bring new customers. The business success lies in customers and their happiness is absolutely imperative, so, if you want to grow, you better start working on your customer experience.