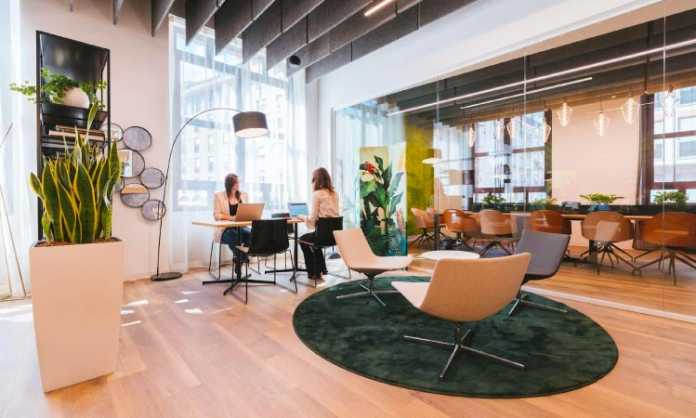 Staying in a closed office space negatively affects the health and productivity of employees. Managers can motivate their employees in many ways, but an important way to encourage employees to work productively can be to create an office in an eco-style, which will convey the atmosphere of nature.
For this, office furniture made from natural materials, room decoration with indoor plants, as well as the use of technologies and devices that will be responsible for creating favourable conditions for employees are used.
In this post, we will talk about how to create such an atmosphere, what pieces of furniture to choose, as well as what devices to install in an office space.
Harmless Pieces of Furniture
When furnishing an office, it is necessary to give preference to pieces of furniture that are made of natural wood, solid wood, veneer, or rattan wicker furniture. By choosing rattan furniture, you get furniture that will last for many years. It is environmentally friendly and 100% recyclable. Companies selling this type of eco-friendly furniture offer trial periods to ensure comfort and safety.
You cannot give preference to furniture that is made of chipboard or medium density fibreboard, since they can hardly be called natural. In their composition, there is preservation treatment, as well as adhesive compositions.
Plants that Nicely Complement the Interior
The lack of fresh air is one of the major problems in most office spaces. Many people know that indoor plants are a source of oxygen. They not only perform this useful function but also pleasantly complement the interior of the room and enliven the space.
However, plants need appropriate care. Sometimes it is difficult to regularly monitor the watering of plants and in this regard, it is necessary to think about how to ensure proper care.
First of all, you need to choose plants that will take root well in the office space.
Lavender and jasmine can reduce stress levels due to their fragrance.
The decoration of the room with bamboo not only creates an aesthetic appearance but also performs the function of air purification.
Chrysanthemums, as well as aloe vera, do not require constant attention and are unpretentious in their care.
Orchids can purify the air in the office, cleaning it from chemical compounds that are in office appliances.
Being engaged in interior design, you can pay attention to the creation of vertical or horizontal gardening. In this way, you can install a watering and drainage system so that the plants receive proper care and are not forgotten.
Moreover, you can make tables, under the glass tops of which, there will be a lawn. This will not only help purify the air but also create comfort in the room. Also in the cabinets, you can make racks in the form of tree trunks, on which you can put your chosen indoor plants.
Breathable Materials
It is impossible to completely abandon materials containing plastic, adhesives, or chemical processing products. However, you can partially replace these unfavourable materials.
Designers can use environmentally friendly finishing materials. We are talking about the use of natural-based wallpaper, wood panelling, fabric stretch ceilings, double-glazed windows, flooring made from natural materials, and ceramic tiles.
Also, such eco-friendly materials include clay, stone, glass, cotton, and linen.
Devices that Create a Favorable Environment
An air Conditioner with Fresh Air Function
In the hot summer period, it is impossible to be in the office if the temperature exceeds all indicators. In this case, it is necessary to install an air conditioner that will supply fresh air. However, in addition to installing such a device, it is necessary to regularly clean the surface where moisture accumulates. If this is not done, then your air conditioner can become a breeding ground for infections.
Room Ventilation
Instead of air conditioners, you can install a ventilation system that will continuously provide the office with fresh air. It is also necessary to regularly clean such a system, otherwise, if the air is not filtered, then exhaust gases from street roads will directly enter your office. This is especially important if the office space is located in the city centre.
Conclusion
An office is not just a place where your employees work every day. This is a place where the atmosphere and conditions created should be conducive to productivity. To bring this to life, it is necessary to create an office in an eco-style. Furniture made from natural materials, indoor plants, and air-purifying devices will have a positive impact on the health of your employees.