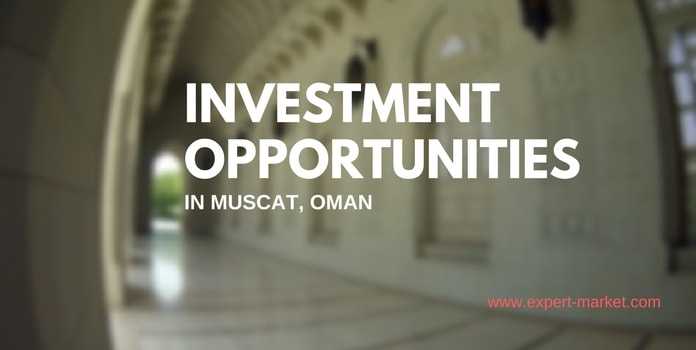 Oman is situated in the midst of major oil producing countries and thus affected by their richness and standard of living. Being situated amidst the Saudi Arabia, UAE, Yemen, and Iran (sharing borders), it is greatly influenced by the business and economic activities of these countries as well. Muscat being the capital of Oman is also the largest city in the country. If you are looking for business ideas or investment opportunities in this region then Mucat is a great place to start up your venture because it offers:-
Easy access to global markets through a modern infrastructure network
Stable, secure and a predictable investment climate
Good healthcare and schools for your kids if you want to stay here
Educated and largely bilingual workforce
Also Read:- Top 20 Best Business Opportunities in Saudi Arabia
Largest cities by population in Oman for Investment Opportunities
Muscat – 1.3 Million
Salalah – 340,815
Suhar – 221,605
Ibri – 160,000
Suwayq – 150,000
Business Ideas and Opportunities in Oman (Muscat)
Oman is a country which is mostly dependent on foreign goods and services, and thus the government is now focusing more on the FDI to make it more resourceful and increase the potential GDP of the country. If you are looking for some profitable business ideas to venture into, then here are such fifteen ideas which can generate good profit margin and require less amount of capital to start with:-
#1 Tourism and Travels Business:
The government is taking major steps to change the tourism sector in the country and this the right time to invest in this market as it is booming rapidly. With government's support to reduce the dependence on agriculture and oil reserves of the country for generating revenue and boosting GDP, the tourism sector is now invaded really well. If you are setting up your own tours and travels company, the initial investment would include the rent of the shop/store, license for being a tour conductor, decoration of the office, the salary of the employees if any. The business is long-term, and you don't have to worry if it once starts to generate profit. The tourism sector since in budding phase might not make huge profits but the growth is there, and that is what you need to look at.
#2 Technology Based Startups:
Technology based startups are booming in middle east. Take an example of Dubai where numbers of technology based startups are popping up everyday. There is vast scope in this industry and if you come with promising business idea then the ball will keep rolling. There are so many business opportunites in this field such as:-
Mobile app based food delivery service
Mobile app for grocery delivery
e-Commerce store for women apparels
Fitness products marketplace
Online fashion store
App based food order from restaurants
Online store for kids
Used product marketplace
App based taxi service or personal pickup and drop
#3 Store for Home Appliances:
Home appliances, consumer durables, and electrical gadgets business never go out of sight and out of mind. The market for these products is always there, and thus if you can import these items from another economy at a lower price and sell it in Oman at a higher rate, you can make the profit in between. Most of the consumer durables used in Oman is imported, and there are not many companies which manufacture these products, and thus you have enough space to import and sell the items to the people.
#4 Celebrity Management/Event Management:
There is money in the hands of the Omanis, and thus events are popular in the city of Muscat and all along the country as well. There are parties, wedding on large scale, celebrity events, sports events and what not. If you have such contacts in the entertainment industry, you can think about opening an event management or celebrity management company, and the profit margins are really high in this industry. The initial investment should be mainly diverted to PR and marketing of your company and hiring right candidates for the events.
#5 Temping Agency or Temporary Staffing Firm:
A Temping agency is an organization which supplies temporary workforce to different business entities. From receptionists to the welders, everything you can deal with. In Oman, the requirement for skilled workers and professional is there, and thus if you can source this human resource into the right channel for a temporary time, you can make a profit from the commission or the fees you would charge from the hiring companies. Moreover, Oman has a huge problem with full-time workers, and thus temporary workforce or contractual workers are mostly preferred.
#6 On Road Car Servicing:
Any car whether expensive or not can break down at any point in time, or there can be accidents without any hint of it. Thus on-road servicing centers for the cars are in huge demand in Oman, and the setup cost is less if you are taking place on the road on rent. The charges for serving on the road are mainly high compared to the charges taken in city service centers, so there is a greater profit margin. Pumping stations, tire changing is normal affairs and required daily by end number of cars so, the business is indeed profit making if you can set it up well.
#7 On-demand Medical Consultancy:
Medical emergencies are inevitable, so if you have good contacts with medical practitioners or you are one then you can set up your own on-demand medical consultation business. The patients or their family members can contact you by phone or internet and ask for advice in case of emergency and if they cannot go to the hospital at that moment. Moreover, you can provide consultation, or your team can look for general medical problems when the patients seek for the same.