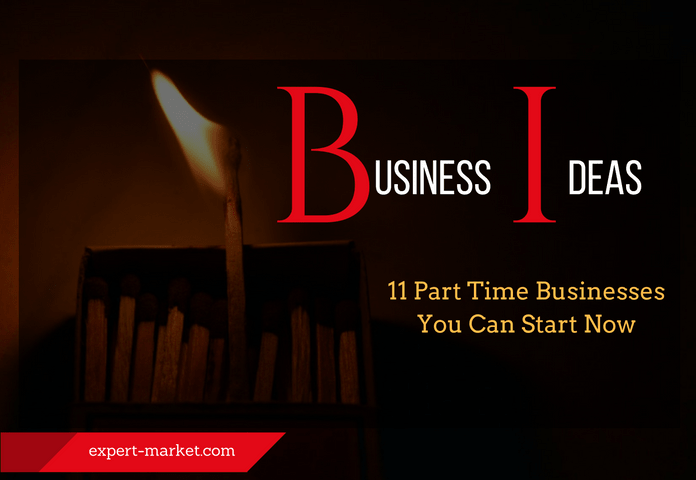 A part-time business is a commerce concept which has been widely adopted for the advantages that follow. Big projects, less time, fewer risks, small investment but larger profits and better money are some of the reasons why this concept rules. People of all ages today are picking up the part time business projects, and that's how the percentage of self-dependant group of individuals has multiplied. This has indeed amplified the per capita income and the standard of living for individuals. Taking up a part-time business is one of the most sorted options, provided you make a wise choice while selecting a domain. We here filter some of the most enticing part time business options which you can pursue for better and bigger profits.
Business Ideas besides your focal earning source
Be a tutor
If you have the ability to educate individuals depending on what talent you own, being a tutor can fetch you that extra income. It requires you to extract some specific hours of your daily schedule, and use the same to earn in monetary terms. There is absolutely no investment apart from the time that you spend in taking up classes. This is considered as of the most popular part time business across country.
Create exclusive designs
Designing is more passion than a business, and while you indulge in your passion you do not have to calculate the time and the effort that you put in. Besides your regular fixed job, you can invest your leisure time in designing exclusive clothes and get impeccable results in the form of world-level recognition as well as pecuniary upliftment.
Be a craftsman
You may have that extra-ordinary talent which demarcates you from your fellow people at your office. What you can actually do, not other think of even attempting. So if you have interest in any kind of craft, then you should definitely take your talent to professional level and make it your secondary income source.
A part-time writer
Creative writing in an art, the art which doesn't require any specific hours for a day, it doesn't demand your physical presence at any particular location. You can pursue with your writing talent even during the hours of darkness, and that's how you pave way for that extra income, while keeping your passion alive. You can get lots of part time writing projects online. Fiverr is of the great place to start with. Create a profile over there and start your part time writing business now.
Affiliate marketing
The affiliate marketing business has the power to bring you a handsome amount as earning on regular basis. You just need to have in depth understanding of affiliate marketing, and the rest is what you can rule with your skills.
These are the different part-time business ideas which can put you high in standards. Keep working to move towards just the perfect life.
Own an on-wheel restaurant
The food stations on wheel are the new cool, and the food lovers have welcomed this concept with open arms. Carry on with the most innovative food items in your menu, and let the people know you through the food you sell. This doesn't require your physical presence on a continued basis; a few occasional visits could do the needful. Handle the ownership, and allocate the management task to other skilful person, who reports on your regular basis.
Own a fitness centre
The fitness centres get on duty for specific number of hours in morning and evening. You need not spend your whole say serving your clients. This could turn out to be one of the most profitable part-time businesses. Besides this, if you are a fitness freak, you could also cater the needs of individuals being their personal trainer. A person trainer is paid in large amount, and this extra income will surely meet a lot of your personal expenses.
Baby-sitting
The baby sitting business has been on the top list of the services that are high in demand. While you spend the main hours of your day at office, and looking out for an option that allows you to earn those extra bugs side by side, the this business idea could suit your needs perfectly. Be a baby-sitter and engage your gratis hours handling a baby to make way for the extra income.
Pet-sitting
The pet-sitting business has been highly in demand for the services that it offers. Just think about yourself if you own a pet, how many times while travelling out you have wished for having someone who could take care of your pet. If this has happened to you for a lot of times, then this is the right time to take decision regarding pursuing a business under this idea.
Pet grooming
The pet groomer works to give a stunning look to your pet. And this does not demand the service provider to be on duty regularly; just a few hours of the day are enough. And this brings you yet another part-time business option.
DJ
The disc jockey is not at business every time, and most importantly the time at which the disc business runs on its peak is the late night hours. So managing your main working hours accordingly, and creating a space for playing as a DJ is what could fetch you an extra income that's above (may be) all other part-time business options.